An Iranian airliner en route to Armenia caught fire mid-air and plunged flaming into farmland Wednesday, killing all 168 people on board in the worst air disaster in Iran in years.
Witnesses and state media said the Caspian Airlines plane was ablaze before smashing into the ground and exploding near a village northeast of Tehran shortly after taking off from the capital's international airport.
Television images showed a vast crater at the disaster site littered with debris of plane parts, shoes and clothes.
A relief worker who declined to be named told an AFP reporter at the site that all he found were "pieces of flesh and bones."
"There is not a single piece which can be identified. There is not a single finger of anybody left," he said, standing next to a body bag filled with human flesh.
"All people aboard... the crashed plane are dead. The plane had 153 passengers and 15 crew members," said Mohammad Reza Montazer Khorasan, head of the health ministry's disaster management centre.
In Yerevan, the deputy head of the Armenian civil aviation organisation, Arsen Pogossian, told a press conference that of the 153 passengers aboard, 147 were Iranian, of whom 31 were of Armenian origin.
The remaining six were four Armenians and two Georgians. Iranian officials said 10 members of Iran's junior national judo team were also among those killed.
Pogossian said the pilot had attempted an emergency landing after an engine caught fire.
"A fire broke out in one engine, and the pilot attempted an emergency landing," Pogossian said, while stressing that his comment was "not an official version" of what had occurred.
Witnesses too spoke of seeing the plane on fire before it plunged to earth.
"I saw the plane when it was just ... above the ground. Its wheels were out and there was fire blazing from the lower parts," witness Ablolfazl Idaji said, according to the Fars news agency.
"It seemed the pilot was trying to land and moments later the plane hit the ground and broke into pieces that were scattered far and wide."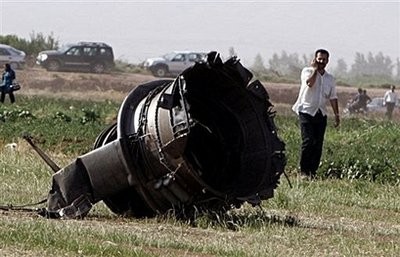 Part of the Caspian Airlines plane which fell into farmland near the city of Qazvin, northwest of Tehran, is seen at the crash site
A farmer, 18-year-old Ahmad, gave a similar account.
"I was driving my tractor when I saw a big fire in the sky," he told AFP.
"There were burnt parts scattered across the ground and I followed them and arrived at the crater. You could not believe your eyes. Nothing was left, but just a big hole with fire coming out of it."
Many relatives poured out their anger at Caspian Airlines, saying its planes could not be trusted.
"I hate these planes. With so much travel between Iran and Armenia, there have to be better planes," said Alex, 24, an Iranian of Armenian origin who lost around dozen friends and relatives in the crash, including children.
The Tupolev Tu-154 plane is a Soviet-designed, medium-range three-engine aircraft. It was a best-seller for the Russian aircraft industry between 1972 and 1994.
Grey-haired Arlen Stepanian wept as he waited for relief workers to find something to help identify his two daughters who were aboard the plane.
One daughter, Shogher, had told him minutes before take off that the plane was facing a problem and that take-off had been delayed.
"Their mother is at home. She is in a total shock," he said, waiting near the massive crater from which smoke was still rising hours after the disaster.
Iran's civil aviation spokesman Reza Jafarzadeh said the plane took off from Imam Khomeini international airport at 11:33 am (0703 GMT) but "16 minutes later it disappeared off the radar and then it crashed."
State television's website quoted Ahmad Momeni, managing director of Iran's airport authority, as saying that the last conversation between the pilot and the ground was "normal and did not indicate any technical glitch."
President Mahmoud Ahmadinejad has ordered a transport ministry probe into the disaster, the third major plane crash in six weeks.
Two weeks ago a Yemenia Airbus crashed in the Indian Ocean off the Comoros, killing 152 people, while on June 1 an Air France Airbus plunged into the Atlantic coast off Brazil killing 228.
Iran, which has been under years of international sanctions, has suffered a number of aviation disasters over the past decade but Wednesday's crash is the worst for many years.
In December 2005, a total of 108 people were killed when a Lockheed transport plane crashed into a foot of a high-rise housing block outside Tehran.
In November 2006, a military plane crashed on takeoff at Tehran's Mehrabad airport, killing all 39 people on board, including 30 members of the elite Revolutionary Guards.
Iran's civil and military fleet is made up of ancient aircraft in very poor condition due to their age and lack of maintenance. The Iranian regime is barred by sanctions from buying American Boeing planes or European Airbus aircraft when they include a significant number of US parts.
Caspian Airlines was established in 1992. Its website said it operates more than 50 regular and numerous charter flights each week between Iranian cities and several Middle Eastern and Eastern European destinations.