At least 17 people were killed and 24 injured in a Beijing building blaze, state media said, the latest accident to highlight China's dismal fire-safety record.
The fire broke out about 1 am (1700 GMT Sunday) in a four-story building in the Daxing district in the capital's southern suburbs, the agency quoted police as saying, adding that the blaze had been put out.
It gave no other details, such as what might have caused the fire.
A woman official who answered the phone at the local government headquarters in Jiugong town, where the fire took place, said she could not confirm Xinhua's casualty count, but added that an investigation had been launched.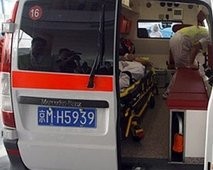 At least 17 people have been killed in a building fire in southern Beijing.
Deadly fires are common in China and are typically blamed on lax observation and enforcement of fire-safety measures.
The government routinely orders nationwide safety crackdowns after particularly deadly fires, but such disasters continue to occur.
In November, a fire engulfed a high-rise apartment building in Shanghai, leaving 58 people dead.
A preliminary investigation blamed that inferno on careless work by unlicensed welders who ignited nylon netting swathing the building, which was being renovated to improve energy efficiency.