All 19 people on board a Polish EADS Casa military transport aircraft died when it crashed as it was coming in to land at Miroslawiec airport in northwest Poland, the Polish airforce said Thursday.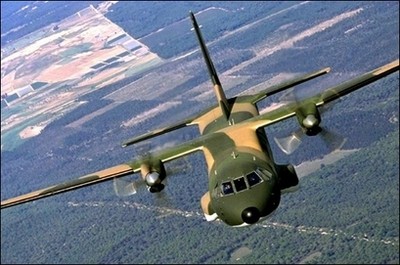 File picture shows a Casa military transport plane
Airport spokesman Bogdan Ziolkowski told reporters: "Nobody survived the accident," which happened late Wednesday.

Airforce spokesman Colonel Wieslaw Grzegorzewski told AFP that 19 military personnel were on board the plane, including 15 passengers and four crew.

The Spanish-built Casa transporter was approaching the West Pomeranian town of Miroslawiec -- site of a Polish air force base -- when it went down in woods close to the runway, igniting a fire.

By a cruel irony, the plane had been returning from Warsaw with officers on board who had been taking part in an annual conference on air security organized by the Polish airforce.

Several passengers had already left the plane at earlier stops at Krzesiny in the west, and Powidz in the north, said military sources.

Grzegorzewski did not rule out the possibility that some high-ranking airforce officers had been among those killed.

Prime Minister Donald Tusk and Defense Minister Bogdan Klich both visited the crash site during the night. President Lech Kaczynski, on a visit to Croatia, announced that he would return to Poland on Thursday.

The fire service said that the EADS Casa C-295M came down just short of the runway into wooded land and burst into flames.

Poland has acquired 10 new Casas made by the European Aeronautic Defense and Space Co. (EADS). The plane is a military transport craft capable of carrying up to 71 soldiers or loads of up to 9,250 kilos (20,350 pounds).

The twin-engine aircraft has a cruising speed of 450 kilometres an hour (280 miles an hour) with a range of 2,200 kilometres carrying 6,000 kilos.

According to the EADS website, the company has sold 50 of the aircraft to six countries: Algeria, Brazil, Jordan, Poland, Portugal, and Spain. To date 25 of the planes have been delivered.

No Casa had up to now crashed anywhere in the world, media quoted Polish military experts as saying.