News from VNS/AFP reported in Sagamihara, Japan that at least 19 people were killed when a knife-wielding man went on the rampage at a Japanese care centre for the mentally disabled on Tuesday.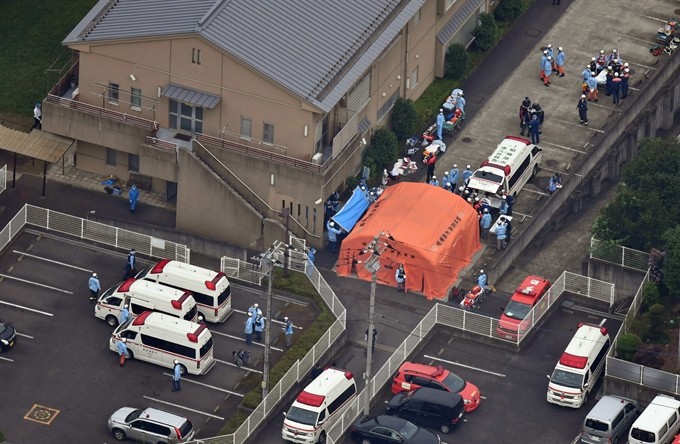 An aerial view shows emergency members at the Tsukui Yamayuri Garden, a residential care facility for disabled people in Sagamihara, Kanagawa Prefecture, about 40 km west of Tokyo, Japan on Tuesday. A man stabbed residents at the facility with a knife and killed at least 19 people and injured at least 26 in the early morning hours of Tuesday
A 26-year-old man who said he was a former employee of the facility later turned himself in at a police station, admitting to officers: "I did it."
According to the Asahi Shimbun daily, he also said: "The disabled should all disappear."
A fleet of ambulances, police cars and fire trucks converged on the one-storey Tsukui Yamayuri-en centre nestled against forested hills in Sagamihara, a city of more than 700,000 people west of Tokyo.
A fire department spokesman said that another 25 were wounded, 20 of them seriously, in the attack which ranks as one of the worst mass killings in Japan's postwar history.
"Doctors confirmed the deaths of 19 people," the spokesman said.
Kyodo news agency identified the attacker as Satoshi Uematsu and said he had been arrested.
Police said they received a call from the centre around 2:30am (1730 GMT Monday), raising the alarm that a man armed with a knife had entered the facility.
Public broadcaster NHK said he had broken a glass window on the first floor to get into the building before stabbing those inside.
It also said police found several knives in his bag, some of which were covered with blood.
Police said the assailant turned himself in shortly after 3:00am, admitting he had carried out the attack at the centre which on Tuesday was cordoned off, and draped with yellow "Keep Out" tape.
Japan has one of the lowest rates of violent crime in the developed world, and attacks involving weapons of any kind are unusual.
But the country has seen outbursts of random as well as planned violence.
In 2001, eight children at a primary school in Osaka were stabbed to death.
And in 2008 a man ploughed a rental truck into a crowd of shoppers in Tokyo's bustling Akihabara district before he stabbed passers-by, killing seven people and injuring 10 others.
After that rampage, Japan banned possession of double-edged knives with blades longer than 5.5cm, punishable by up to three years in prison.
Japan's most notorious attack came in 1995, when members of the doomsday cult Aum Shinrikyo released sarin gas in the Tokyo subway system.
Thirteen people were killed and thousands of commuters fell ill in a crime that deeply dented the national sense of security.
But Japan has recently seen an increasing number of cases of attacks on the weak and vulnerable.
In February, a former nursing home worker was arrested for allegedly throwing an 87-year-old resident to his death from a balcony.
The former employee also reportedly admitted killing two more residents in their 80s and 90s by throwing them from balconies in 2014.
There have also been cases of family members killing ailing and ageing spouses or parents suffering from dementia in Japan's rapidly ageing society.