An aid ship on Thursday ferried the bodies of two Western photojournalists from the besieged Libyan city of Misrata to Benghazi after they were killed and two others working alongside them were wounded while covering battles between rebels and government forces.
British-born Tim Hetherington, the Oscar-nominated co-director of the documentary "Restrepo" about U.S. soldiers on an outpost in Afghanistan, was killed Wednesday inside the only rebel-held city in western Libya, said his U.S.-based publicist, Johanna Ramos Boyer. The city has come under weeks of relentless shelling by government troops.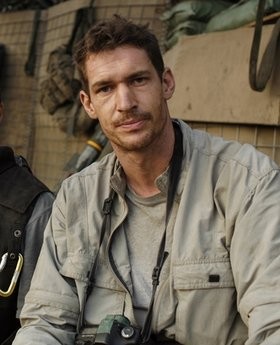 In this 2007 file publicity image released by Outpost Films, photographer Tim Hetherington, is shown at the Restrepo outpost in the Korengal Valley, Afghanistan, during the filming of their documentary Restrepo.
Chris Hondros, a New York-based photographer for Getty Images, was also killed Wednesday. His work appeared in major magazines and newspapers around the world, and his awards include the Robert Capa Gold Medal, one of the highest prizes in war photography.
Many circumstances of the incident were unclear. A statement from Hetherington's family said he was killed by a rocket-propelled grenade.
The Washington Post reported that the journalists had gone with rebel fighters to Tripoli Street in the center of Misrata, scene of the some of the most intense recent fighting in the city.
After an ambulance rushed Hetherington and Guy Martin to a triage tent, an American photographer whose bulletproof vest was splattered with blood implored the drivers to go back for more victims, the Post reported.
Hetherington was bleeding heavily from his leg and died about 15 minutes after he reached the triage facility, while Hondros died after suffering a severe brain injury from shrapnel, the Post reported.
The two other photographers — Martin, a Briton affiliated with the Panos photo agency, and Michael Christopher Brown — were treated for shrapnel wounds, doctors said.