About 20,000 people fled from Myanmar into Thailand to escape fighting between government troops and ethnic rebels following the military-ruled nation's first vote in 20 years, Thai officials said Tuesday.
At least three civilians were killed when heavy weapons fire hit the town of Myawaddy in Karen State, an official in Myanmar said. There was no information on any troop casualties on either side.
The violence erupted after an election on Sunday that was strongly criticised by the West because of widespread complaints of intimidation and the continued detention of democracy icon Aung San Suu Kyi.
More than 15,000 people had crossed into the Thai town of Mae Sot, fleeing fighting just across the border in Myawaddy, said Samard Loyfar, governor of Tak province in Thailand.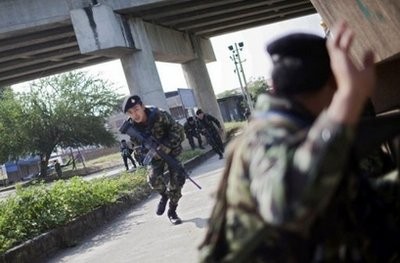 Thai soldiers run for cover near the Thai-Myanmar border in Mae Sot, western Thailand on November 8, 2010, as clashes involving heavy weapons took place on the Myanmar side of the border
"But we are likely to repatriate them today," he said, adding that he had heard reports suggesting the rebel groups had pulled out of Myawaddy.
A second pocket of unrest further south pushed some 5,000 people to seek refuge across the border on Monday, said district chief Jamras Srangnoi in Kanchanaburi in Thailand, but many had returned to their homes.
Zipporah Sein, the Thailand-based general secretary of the Karen National Union (KNU), said there had been fighting between government forces and Democratic Karen Buddhist Army (DKBA) troops in the two areas.
People in Myawaddy said fighting had subsided overnight with government troops pushing the rebel soldiers back into the forests.
One witness who has visited the town's hospital reported around 10 deaths.
"We heard the rebels just wanted to show their dissatisfaction with the election," one resident said.
A simmering civil war has wracked parts of the country, including Karen State, since independence in 1948 and observers say the junta's determination to crush ethnic minority rebels appears to have strengthened.
The Myawaddy clash followed an armed demonstration by the rebels in the town over Sunday's election as well as attempts to force ethnic minority troops to join a "border guard force" -- which would put them under state control.
Last week the Democratic Voice of Burma (DVB), an exiled media organisation, reported that six armed groups in Myanmar's troubled ethnic minority areas had agreed to help each other fight back if attacked by government forces.
Many groups have previously signed ceasefire agreements with the junta, but tensions have increased, with fierce resistance to the government's border guard force plan.
In areas where civil war continues, rights groups have accused the junta of waging a brutal counter-insurgency campaign involving the rape, torture and murder of villagers, whose homes are routinely destroyed.
The military has ruled the country since 1962 and the armed forces have doubled in size over the past two decades, to up to 400,000 personnel.
The Myanmar authorities, citing security concerns, scrapped voting in swathes of ethnic-minority areas in Sunday's election, widely decried as a sham to maintain military rule.
Pro-democracy parties which participated in the poll complained Monday of "cheating" at polling booths, saying it had dimmed their earlier hopes of winning seats.
With 25 percent of the seats in parliament reserved for military appointees whatever the outcome, the two main pro-junta parties needed to win just another 26 percent from the elected seats to secure a majority.
More than 29 million people were eligible to vote but ahead of the vote many in the impoverished nation had appeared apathetic and disillusioned with the process.
UN Secretary General Ban Ki-moon on Monday added his voice to the chorus of protests in the West over the election, saying it was "insufficiently" transparent and calling for the junta to release political prisoners.