The 95th annual Pulitzer Prizes were announced Monday in New York's Columbia University with Los Angeles Times receiving the coveted public service Pulitzer.
In the 14 Journalism categories, winners represented 11 U.S. news organizations. Los Angeles Times was awarded for its exposure of corruption in the small California city of Bell where officials tapped the treasury to pay themselves exorbitant salaries, resulting in arrests and reforms. The paper also won the award of Feature Photography for reporting innocent victims trapped in the crossfire of deadly gang violence in Los Angeles.
The New York Times also won two Pulitzer Prizes for its economics commentary and for its international reporting on Russia in 2010. The Wall Street Journal received the Pulitzer for editorial writing of challenging the U.S. health care reform while The Boston Globe won the Pulitzer Prize for Criticism.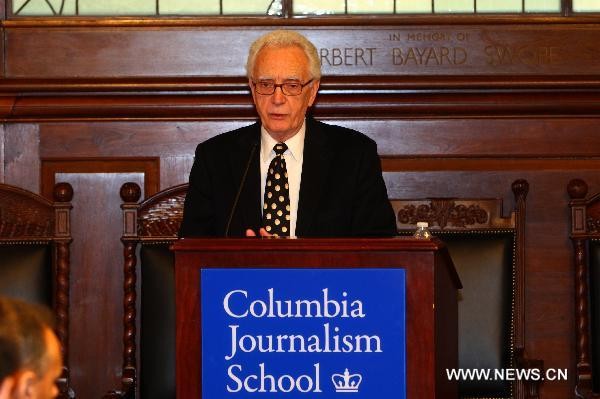 Sig Gissler, administrator of the Pulitzer Prizes, announces the results of the 95th annual Pulitzer Prizes in Journalism, Letters, Drama and Music at the Columbia University in New York, the United States, April 18, 2011.
Carol Guzy of The Washington Post won her fourth Pulitzer, the most ever in journalism, with her breaking news photography of Haiti earthquake. ProPublica, which last year became the first news site to win a prize, won a National Reporting prize this year. The Denver Post won the prize for Editorial Cartooning.
Meanwhile, the Investigative Reporting Prize and Local Reporting Prize went to The Sarasota Herald-Tribune and The Chicago Sun-Times respectively. For the first time, no winner was named in Local Reporting of Breaking News.
"For the Journalism categories, the jury board focuses on high quality reporting and writing, accuracy, fairness, balance, sufficient attribution, and other factors such as the use of digital tools, all of which are part of good journalism," Sig Gissler, the administrator of Pulitzer Prizes, told Xinhua.