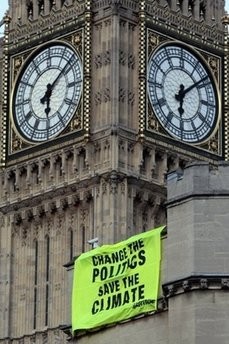 A banner is seen hung near Big Ben after Greenpeace demonstrators scaled the roof of the Houses of Parliament to protest against perceived government inaction on climate change. (AFP photo)
LONDON (AFP) – Twenty-three people who climbed on to the roof of Britain's Houses of Parliament for a protest to urge ministers to overhaul climate change policies have been arrested, police said Monday.
The campaigners, who unveiled banners saying "Change the politics, save the climate", want action before the UN's Copenhagen summit in December and are targeting parliament as lawmakers return from their near three-month summer break.
"We've got to raise the temperature of the debate because we are really running out of time," said Greenpeace executive director John Sauven.
"Parliament is opening and there is an election looming so this is a golden opportunity for the political parties to really think about the future."
Around 20 people remain on the roof, from where Greenpeace employee Brikesh Singh, 29, from Bangalore in southern India, said: "We want them (lawmakers) to get the message loud and clear that if you want a planet-saving deal in Copenhagen we need to change the climate policy."
The December 7-18 United Nations climate summit in Copenhagen will see nations attempt to hammer out a new global climate treaty to replace the Kyoto Protocol which expires in 2012.
London's Metropolitan Police said in a statement: "Twenty of the protesters who climbed onto the roof... have come down and been arrested on suspicion of trespassing on a protected site.
"They have been taken to a central London police station."
It is not the first breach of security in recent times at parliament.
In March 2004, Greenpeace demonstrators scaled the landmark clock tower on the first anniversary of the invasion of Iraq.
Two months later, fathers' rights campaigners threw condoms full of purple flour in the lower House of Commons, hitting then-prime minister Tony Blair.
Four months on, five protesters got into the chamber to protest during a hunting ban debate.
And protesters got onto the roof in February 2008 to demonstrate against a planned third runway at London's Heathrow airport.