As many as 23,000 more people were facing possible evacuation as firefighters struggled to get a grip on an out-of-control wildfire raging in southern California.
California Governor Arnold Schwarzenegger has declared a state of emergency to help release resources to fight the blaze.
At least 75 homes have been destroyed and 30,500 people evacuated from the upmarket town of Santa Barbara following a wind-whipped blaze that has forced firefighters onto the defensive.
Authorities widened the scope of possible evacuation areas to include an additional 23,000 people, despite a lull in winds and increased humidity that gave a boost to the firefighting effort later Friday.
The rapidly spreading wildfire left vast clouds of smoke across the region following a dramatic escalation overnight that had sent the flames roaring toward the center of the city.
"I never thought I'd use these cliche type words, but last night all hell broke loose," Santa Barbara City Fire Chief Andy Dimizio said.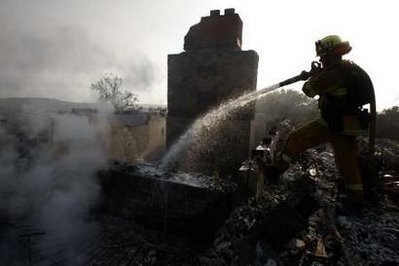 A firefighter douses hot spots in a home burned in the Jesusita fire in Santa Barbara, California May 8, 2009
Powerful winds known as "sundowners," sizzling temperatures and tinder dry brush have combined to create a perfect storm of fire conditions for beleaguered fire crews.
The National Weather Service has forecast no let-up in the punishing conditions, with an extended alert for gusts in place until the weekend.
"This fire is really being driven by the weather," Santa Barbara County Fire Chief Tom Franklin said. "So as unpredictable as the weather can be, that's about as unpredictable as the fire is going to be."
Efforts to halt the flames had been hampered by unusually dry brush, the result of low rainfall during the winter months.
"We usually expect the brush to have a little more moisture in it; this doesn't. There's a lot of dead brush up there," Franklin said.
An army of around 2,500 firefighters were tackling the flames, while 15 helicopters and fixed wing aircraft, as well as a retardant-dropping DC-10 were bombarding the fire in a sustained aerial assault.
By 6:00 pm (0100 GMT) Friday, the fire was 10 percent contained and had burned through some 3,500 acres (1,416 hectares), according to the California Department of Forestry and Fire Protection (CALFIRE).
But fire commanders said more containment lines had been created Friday.
So far, 11 firefighters have been injured. Three were hospitalized with burns and smoke inhalation after a home they were protecting was suddenly engulfed by flames.
Meanwhile, evacuees from the fire gathered at emergency shelters set up by the Red Cross at a local high school and at a gymnasium on the University of California's Santa Barbara campus.
"I'm a Californian and I've known about fires and earthquakes my whole life," one evacuee, Bettina Johnson, told AFP. "You accept it as part of the price of living here.
"But when you see those flames up in the hills coming towards your home, it's still terrifying. I looked outside my home on Thursday, and the sky was blue and then all of a sudden it was just a brown cloud of ash."
California is frequently hit by scorching wildfires due to its dry climate, Santa Ana winds and recent housing booms that have seen home construction spread rapidly into rural and densely forested areas.
In 2007, California suffered devastation from wildfires among the worst in its history that left eight people dead, gutted 2,000 homes, displaced 640,000 people and caused one billion dollars in damage.
Last November, at least 100 homes were destroyed by a wildfire in the celebrity enclave of Montecito near Santa Barbara.
Flames from the latest fire were rapidly approaching Montecito on Friday, officials said, with talkshow queen Oprah Winfrey reportedly be packing up belongings from her 50-million-dollar estate in the region.