CHICAGO (AFP) – A tornado killed 24 people in the Missouri town of Joplin, local media reported, less than a month after twisters carved a swathe of destruction through the US southeast.
The Springfield News-Leader newspaper reported that Ryan Nicholls of the Springfield-Greene County office of emergency management confirmed that 24 people were killed.
Joplin, located just miles from the borders of Kansas and Oklahoma, took a "direct hit" from a tornado, the newspaper reported.
"The Home Depot is leveled. The Walmart is destroyed. Gas stations, buildings. Everywhere I could see was either heavily damaged or completely destroyed," said John Miller, a freelance photographer for the News-Leader.
"I saw firefighters and paramedics pull a young girl out of a car at the Home Depot," Miller said. "Part of the building had fallen on the car."
The tornado struck less than a month after a tornado outbreak left 354 dead across seven US states.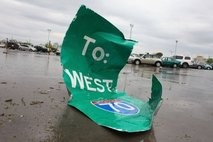 AFP /File – A highway sign sits in a parking lot at Lambert-St. Louis International Airport April 23, 2011
Missouri Governor Jay Nixon declared a state of emergency and activated National Guard troops in response to what he described as "significant destruction in multiple areas, including Joplin, where a tornado struck St. John's Regional Medical Center."
The badly damaged medical center was evacuated Sunday.
"These storms have caused extensive damage across Missouri, and they continue to pose significant risk to lives and property" Nixon said in a statement late Sunday.
"As a state, we are deploying every agency and resource available to keep Missouri families safe, search for the missing, provide emergency medical care, and begin to recover." he added.
Nixon warned that the storms are not finished.
"I urge Missourians to keep a close eye on the latest weather information and to follow the instructions and warnings of emergency personnel as these deadly storms continue to move through our state," he said.
Jerry Williams, assistant vice president at Missouri Southern State University, who survived the storm was quoted as calling the experience "horrific."
"There are just areas that are flattened," he told The News-Leader. "Places are gone. It's like somebody dropped a bomb or something."
On Saturday, a deadly tornado pummeled the east Kansas town of Reading, killing a man and damaging an estimated 80 percent of Reading's structures, mostly wood-frame buildings.
According to witnesses, it crushed a grain elevator, tore the top off the red brick post office, blew the back off the local fire department building, tore houses off foundations and uprooted trees.
"We have nothing, no place to call home. It's hard," Jill Scales, a Reading resident, told reporters. "We're just still in shock. We don't know where to go from here. What do you do?"
A tornado was also responsible for the death of one person in Minneapolis, Minnesota, on Sunday, authorities said. At least 18 others in that city and its suburbs were injured.