Syrian security forces killed three civilians and arrested dozens more on Saturday, activists said, while state media was mum about the death of ex-Libyan leader Moamer Kadhafi, the third Arab leader overthrown by popular revolts this year.
Meanwhile, Iran, Syria's key ally, took a tougher stance against the regime of President Bashar al-Assad, openly condemning its crackdown on dissent that has left more than 3,000 people dead, most of them civilians, according to the United Nations.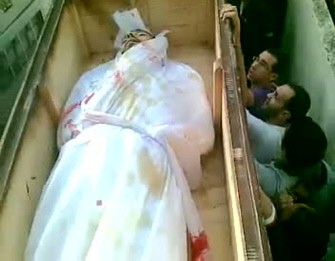 An image grab taken from a video uploaded on YouTube on October 22, 2011 shows Syrian mourners carrying the coffin of a man who was killed during an anti-regime rally during his funeral in Homs.
Iranian President Mahmoud Ahmadinejad condemned the "killings and massacre" in Syria in an interview with CNN, in the Islamic republic's strongest criticism of its neighbour's deadly repression of protests calling for greater freedom and the fall of the Assad regime.
"We condemn killings and massacre in Syria, whether it is security forces being killed or people and the opposition," Ahmadinejad said, according to excerpts of the interview reported in Farsi by the website of Iran's state broadcaster.
"We have a clear formula for Syria and that is for all sides to sit together and reach an understanding ... therefore these killings cannot solve any problems and in the long term it will lead to a deadlock," he added.
"When people are being killed, it paves the way for more quarrels ... There should be no foreign interference (in Syria)," Ahmadinejad was quoted as saying in what appeared to be an indirect warning to Washington.
The United States has repeatedly called for the UN Security Council to impose sanctions on Damascus and was strongly critical of vetoes by China and Russia earlier this month of even a watered-down draft threatening "targeted measures."
Tehran has been concerned about the possible collapse of its principal Middle East ally and had previously avoided speaking out against the regime's deadly crackdown, accusing instead its traditional foes Israel and the United States of stirring up trouble in Syria.
A shift in Iran could bode poorly for Assad's regime, which already lost the support of Turkey, one of its treasured allies in the region, over the violence of its security forces against a primarily peaceful protest movement despite recent reports of mounting armed resistance.
Clashes between the Syrian army and gunmen believed to be defectors on Saturday left one person dead in the northwestern province of Idlib, near Turkey, the Observatory said.
Two civilians were killed in the flashpoint central city of Homs, epicentre of the opposition, one during raids and another caught in sniper fire, it added.
On Friday, security forces killed at least 19 civilians, 15 of of them in Homs, where the death of Kadhafi galvanised mass protests, the same source reported.
The Britain-based watchdog said 114 civilians have been killed in Homs since the beginning of October and that at least 2,100 have been thrown behind bars.
On Saturday, on the outskirts of Damascus, "almost 5,000 members of the Syrian army and security forces stormed the districts of Zamalka, Hammuriyeh, Kafar Batna, Saqba, Erbine and Harasta, arresting dozens of residents."
Pro-democracy activists called for fresh demonstrations on Sunday under the banner "It is your turn," a reference to Assad, expressing their hope he will become the next Arab leader to fall.
"It seems that the death of Kadhafi closed a chapter," Jean-Yves Moisseron, a regional expert at France's Institute of Development Research, told AFP.
"If the situation stabilises in Libya, the pressure on Bashar al-Assad will be extremely strong," he said.