An additional 300,000 people will be forced to move from their homes because of China's controversial Three Gorges Dam and its huge reservoir, state media reported on Thursday.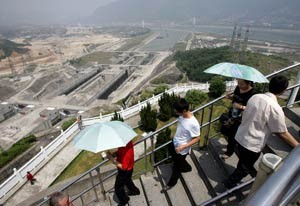 Visitors enjoy landscape of Three Gorges Dam construction site.
The English-language China Daily said the relocations were aimed at preventing pollution from adjacent communities contaminating the reservoir, and at protecting residents from possible seismic dangers.
The report quoted government officials in the huge municipality of Chongqing in southwestern China. The dam is located in central Hubei province, but most of its reservoir is in Chongqing.
State media said in September that 1.27 million people had already been relocated to make way for the project, which is expected to produce 100 billion kilowatt-hours of electricity a year when it reaches capacity, according to an earlier Xinhua report.
Chinese officials have previously said 1.4 million people were to be subject to forced relocation from areas now submerged or due to be submerged by the reservoir.
Critics of the dam -- which is the world's largest, at more than 2,300 metres (7,500 feet) wide and 185 metres high -- have long decried what they call its huge human and environmental costs.
They have alleged massive corruption in the resettlement programme, while villagers forced from their homes have complained they were denied promised government compensation and benefits.
Chinese scientists and officials also caused a stir in 2007 when they said the massive weight of the swelling reservoir was causing an increase in seismic activity and landslides.
A further four million people have been "encouraged" to move from the area by 2020, officials said that year, although the government has insisted those relocations were unrelated to the dam.