An explosion at a coal mine in northeast China early Saturday killed 31 workers and left 82 trapped, state-run China Central Television (CCTV) said, the latest deadly incident to hit the industry.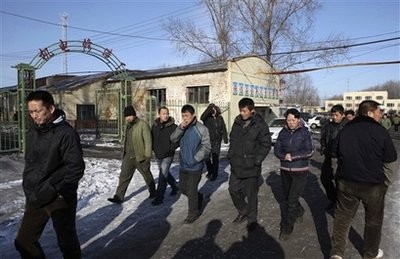 In this photo released by China's Xinhua News Agency, relatives of coal miners come to the accident site to wait for further information in the Xinxing Coal Mine in Hegang City, northeast China's Heilongjiang Province, Saturday, Nov. 21, 2009.
The blast happened at 2:30 am (1830 GMT Friday) at a mine in Heilongjiang province, according to a statement issued by the State Administration of Work Safety.
A total of 528 miners were working in the pit, near Hegang City, when the blast occurred, the state administration said.
The previous toll given by CCTV was 15 dead and 114 trapped.
The mine is owned by the Heilongjiang Longmay Mining Holding Group, based in provincial capital Harbin.
Xinhua said vice premier Zhang Dejiang was going to the scene of the incident to direct rescue operations. President Hu Jintao and Premier Wen Jiabao had given instructions on the rescue work.
According to the company's website, in 2009 it was ranked 12th out of the top 100 Chinese mining companies and seventh in terms of production volume, without giving further details.
In October four owners of an illegal colliery in Guizhou province in the southwest went on the run after 14 workers died when a mine collapsed. The four were later caught by authorities.
And an explosion at a mine in central Henan province in September left more than 50 people dead. The work safety administration said mine shafts had been destroyed after a gas explosion at the pit in the city of Pingdingshan.
Due to the country's heavy use of coal to power its fast-paced economic growth, it has become one of the two biggest emitters of greenhouse gases alongside the United States.