A total of 35 Afghans were killed and 27 others injured on Saturday when a speeding bus overturned on a highway in southern Afghanistan, officials said.
The smash happened just outside Kandahar city in the Daman district of Kandahar province on the main road connecting it to the capital, Kabul.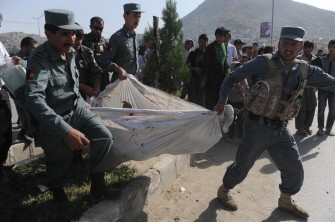 Afghanistan's policemen carry the dead body of a suicide attacker at the site of a suicide attack and clash at the British cultural centre in Kabul on August 19, 2011.
Kandahar provincial governor Tooryalai Wesa blamed the loss of life on the "carelessness of an unprofessional driver" who was driving too quickly at the time of the accident.
"Today at 3.30 am (2300 GMT Friday), 35 passengers were killed and 27 other passengers were wounded in a traffic accident when a bus rolled over," the Afghan interior ministry said in a statement.
"The Ministry of Interior Affairs asks all drivers to drive carefully and observe all traffic rules and regulations because a small reckless move can endanger many lives."
President Hamid Karzai issued a statement voicing his deep sympathy for those affected by the crash.
Afghanistan's roads are perilous and many vehicles in the country are old, meaning that high casualty road traffic accidents are relatively common.
In the 12 months to March, 1,394 people were killed on the country's roads, according to the interior ministry.
Meanwhile, six members of the Afghan security forces were killed in three separate attacks in different parts of the country.
Three policemen died and three others were wounded in the eastern province of Kunar late Friday when the Taliban launched rockets at a checkpoint, Kunar governor Fazlullah Wahidi told AFP.
In western Afghanistan, two Afghan army troops died and three others were badly injured when their vehicle was targeted by a rickshaw bomb in Herat city Saturday, army spokesman Najibullah Najibi said.
And one Afghan intelligence official was killed and four others were wounded by a tricycle bomb near the eastern city of Jalalabad Saturday, the provincial governor's spokesman Ahmad Zia Abdulzai said.
The Taliban, who are leading a ten-year insurgency against the Western-backed government of President Hamid Karzai, claimed responsibility for the two eastern attacks. They often target government officials.
Four civilians were also killed late Friday by a bomb planted under a bridge in Uruzgan province, southern Afghanistan, governor's spokesman Ahmad Meelad Muddasir said.