At least 37 people died in bombings and shootings in the Iraqi capital a day after a massive blast tore through a Baghdad market, killing 130 people in the second worst attack since the March 2003 invasion.
The US military, meanwhile, revealed that four helicopters which crashed in the past two weeks were shot down by rebels, killing 20 people in all.
In addition to the 37 people killed in Baghdad attacks on Sunday, 33 corpses were found across the city and seven more people were reported killed elsewhere in Iraq.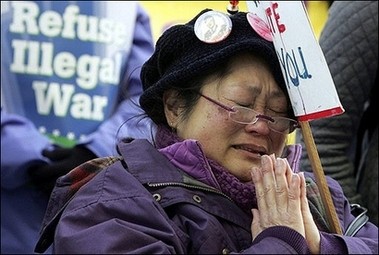 Anti-war protestor Stephanie Miyashiro attends a demonstration in honor of Army First Lt. Ehren Watada in San Francisco, California on 04 January 2007.
Sunday's attacks, which followed a week of bombings in mainly Shiite areas of the capital, came ahead of a massive security operation by a combined US-Iraqi force aimed at stabilizing the violence-wracked city.
In one incident a car bomb exploded near a bus station killing four people and wounding seven, and a roadside bomb left four policemen dead and four wounded.
Towards nightfall a salvo of mortar shells slammed into Baghdad's Sunni district of Adhamiyah, killing 15 people and wounding 56, a medical source said.
Iraqi security officials confirmed the attack but not the casualty figures.
The latest round of reprisals came after a massive truck bomb exploded on Saturday in the Shiite Sadiriya district of central Baghdad, killing 130 people and wounding another 305.
That attack was blamed on Sunni Arab followers of executed dictator Saddam Hussein by embattled Prime Minister Nuri al-Maliki.
Angry residents of Sadiriya on SUnday vented their fury on Iraqi leaders and security forces.
"Why they are targeting this place again and again? Just because we are Shiites," one resident who saw the bombing told AFP on condition of anonymity.
"Why don't they target Adhamiyah or Fadel (Sunni districts)? These were families who died. Where is the government? Let Prime Minister Maliki see this, let President (Jalal) Talabani see this. Do you see any Americans around here? Why this place? Where is the security plan?"
The devastation caused by the bomb was apparent, the long, narrow street where the Sadiriya market is situated strewn with debris and rubble from dozens of gutted shops.
Grieving Shiites anxiously searched for the remains of loved ones in buildings which looked as if they had been hit by artillery or air strikes.
The blast was the worst attack since coordinated car bombings in the Shiite district of Sadr City last November 23 killed at least 202 people.
Sadiriya, a Shiite stronghold, was an obvious target for Sunni insurgents.
Posters of leading Shiite politicians Moqtada al-Sadr and Abdel Aziz al-Hakim dot the market street alongside banners quoting Imam Ali, one of the early leaders of the Shiite faith.
The government blamed militants infiltrating from neighbouring Syria, with which Iraq restored diplomatic relations only late last year.
"What we see on the streets of Baghdad, 50 percent of it is coming from Syria," government spokesman Ali al-Dabbagh said.
In Damascus, an official source slammed Dabbagh's comments as "contrary to reality and aimed at harming relations between Iraq and Syria that Damascus wants to strengthen and develop."
The US military acknowledged, meanwhile, that four crashed helicopters had been shot down.
Major General William Caldwell said it appeared as if the aircraft had taken "some kind of anti-aircraft ground fire."
A January 20 crash in which 12 US troops were killed when a Black Hawk helicopter went down northeast of Baghdad was one of the deadliest since the invasion.
On January 22, a helicopter operated by US firm Blackwater came down in Baghdad, killing four US private security guards.
On January 28, an attack helicopter crashed north of the Shiite holy city of Najaf, killing the two-man crew, and on Friday another crashed north of Baghdad, killing two more troops.
An Islamist website, meanwhile, posted a video of an attack on a US Apache helicopter last Friday in the Taji region north of the capital that was claimed by the Iraqi branch of Al-Qaeda.
The video shows the Apache catching fire and crashing near a hillside.