NUKU'ALOFA, Aug 6, 2009 (AFP) - One British man was killed and 40 people were feared missing after a ferry capsized in open waters near Tonga's capital Nuku'alofa, officials said Thursday.
The Pacific Ashika, en route from Nuku'alofa to outlying Ha'afeva island, rolled and sank just before midnight on Wednesday, officials said.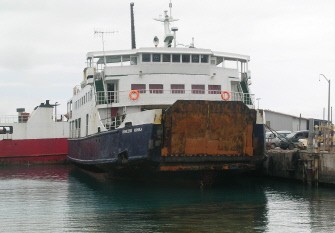 This undated photo provided on August 6, 2009 by the Matangi Tonga Online shows the MV Princess Ashika ferry in Nuku'alofa (AFP photo)
The company operating the vessel said there were an estimated 96 people on board, and Tongan police said 55 passengers and crew had been rescued.
The only body recovered nearly a full day after the accident was that of a British man carrying a New Zealand driver's licence, officials said.
Although the official manifest showed 79 passengers and crew, police said the exact number of people on board was still unknown.
"Realistically we believe there were more passengers on board but we could not confirm at this stage how many they are," Chief Inspector Sokopeti To'ia said.
One survivor said most of the missing were women and children who were asleep below decks when the vessel overturned.
Siaosi Lavaka told the Matangi Tonga Online that he only saw men reach the lifeboats when the ferry capsized.
"No women or children made it," he said when he arrived at Ha'afeva on the rescue ship Pulupaki with 50 other survivors, all of whom were men.
Ferries provide a lifeline for the people in the Pacific island nation.