KOLKATA, India, July 19, 2010 (AFP) - A speeding express rammed into the back of another passenger train in eastern India early Monday morning, killing more than 50 people and trapping others in the wreckage, officials said.
The express hit the other train as it stood at a station in Birbhum district, around 200 kilometers (125 miles) north of Kolkata, the state capital of West Bengal.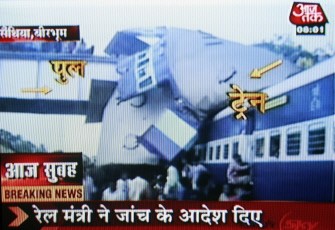 In an image grab taken from Aaj Tak television Indian bystanders and rescue officials crowd the scene of a train accident at Saithiya, some 250kms north of Kolkata on July 19, 2010. AFP
The force of the impact lifted one of the stationary train's rear carriages off the tracks and left it lodged at an angle over a passenger bridge at the station.
Bodies and badly injured travellers were being pulled from the crumpled mass of steel by emergency services and members of a huge crowd of onlookers which had gathered around the site of the accident.
"The death toll has crossed 50. We are still struggling to pull out some bodies from the coach," senior police officer Humayun Kabir told AFP by telephone from the scene.
There was no immediate report of what may have caused the accident.
Most of the dead were in the rear "unreserved" carriages, which are usually tightly packed.
"The people who have lost their lives were travelling in unreserved coaches. We do not have their names and any vital information about them to inform their relatives," Sunil Banerjee, a local rail traffic manager told AFP.
"Relief trains have been rushed from Kolkata," he said.
Railways Minister Mamata Banerjee and other senior officials were also on their way to the site.
The accident came less than two months after a train collision blamed on Maoist saboteurs killed nearly 150 people in West Bengal.
In that incident, a Mumbai-bound high-speed passenger express from Kolkata veered off the tracks into the path of an oncoming freight train. Police officials said a section of the track had been removed.
The state-run railway system -- still the main form of long-distance travel in India despite fierce competition from new private airlines -- carries 18.5 million people daily.
There are 300 accidents on the railways every year, and past crashes have left hundreds dead.
In 2002, 100 were killed and 150 hurt when a carriage plunged into a river in the northeastern state of Bihar, while in 1995 more than 300 died in a collision near Ferozabad, close to the Taj Mahal city of Agra.
The worst accident on record dates back to 1981 when a train plunged off the track into a river in eastern Bihar state, killing 800 people.