Nigeria's security forces on Monday fought gun battles with radical Islamists who went on a rampage torching churches, police posts and government buildings in four northern states.
Police put the number of dead from the weekend religious clashes at 55 in two states of Bauchi and Yobe, as of early Monday morning.
In Borno state, heavily armed Islamist rebels torched a police headquarters, a church and a customs office in the border town of Gamboru-Ngala overnight before moving to the state capital Maiduguri where battles ran into the afternoon.
A Nigerian Islamist sect styled on Afghanistan's Taliban burnt down a central prison in Maiduguri, two police stations, several churches, a government primary school and offices of a state unemployment bureau.
"The situation has degenerated into big battles between the Taliban ... and the soldiers and police. Since morning, you can hear nothing but gunfire all over the city," resident Sanisu Ahamad told AFP by telephone as sound of gunfire could be heard in the background.
"Many government buildings have been burnt including the central prison and several churches. Streets are deserted. People are in their homes," he said.
Several telecommunications masts have been burnt cutting off many parts of the city.
Maiduguri is the Nigerian Taliban birthplace and stronghold and some neighbourhoods there are seen as Taliban enclaves.
Muhammad Auwal Mujahid told AFP by phone: "Its quite scary, all you hear is frightening sounds from guns."
In Wudil town situated on the outskirts of Kano, the largest city in northern Nigeria, the militants attacked a police station but were repelled in clashes that left three rebels dead, Kano police spokesman Baba Mohammed told AFP.
In Yobe, the militants doused a police station with petrol and set it alight.
"The police station is still burning with billows of dark smoke... coming from the inferno," said resident Ibrahim Bashir.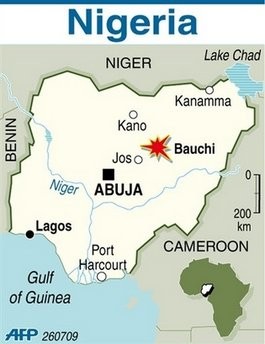 Map locating Bauchi, where at least 55 people died in clashes between police and a Taliban-inspired organisation.
Nigeria's police chief Inspector-General Ogbonna Onovo earlier told reporters that weekend attacks claimed the lives of 50 militants and five police.
He said the death toll related to clashes in the neighbouring states of Bauchi and Yobe, adding that new fighting was raging in nearby Borno state.
"They (militants) are out there in Maiduguri (Borno) now, battling with the police," Nigeria's police chief told a news conference in the capital Abuja.
Police gave no details of casualties in the attack, but Shafiu Mohammed, a resident said the armed men burned a customs officer to death and slit the throat of an engineer working at the customs complex.
They also set ablaze a police station, a customs post and a church in the border twon.
The fighting broke out Sunday in Bauchi state when police hit back at militants after they attacked a police station at dawn. An AFP reporter said calm had returned to Bauchi by Monday, where a dusk-to-dawn curfew was imposed on Sunday.
The Nigerian Taliban emerged in 2004 in Maiduguri, Borno, before it set up a base -- dubbed Afghanistan -- in Kanamma village in Yobe, on the border with Niger, from where it attacked police outposts and killed police officers.
Membership of the group, which locals call "boko haram" (Hausa for Western education is a sin) is mainly drawn from university dropouts.
The north of Nigeria is majority Muslim, although large Christian minorities have settled in the main towns, raising tensions between the two groups.
Since 1999 and the return of a civilian regime to Nigeria's central government, 12 northern states have introduced Islamic Sharia law.
More than 700 people died last November in Jos, capital of Plateau state, when a political feud over a local election degenerated into bloody confrontation between Muslims and Christians.
Sectarian clashes between Muslims and Christians in Bauchi state killed 14 people in February.
One of the Nigerian Taliban leaders, Aminu Tashen-Ilimi, told AFP in a 2005 interview that the group intended to lead an armed insurrection and rid society of "immorality" and "infidelity."