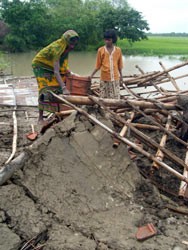 An Indian villager and her daughter stand beside a collapsed mud home after a cyclonic storm at Khejuri, south Midnapore, September 20, 2006 (AFP Photo)
At least 62 people were dead and hundreds of fishermen missing after a storm in the Bay of Bengal slammed into India and Bangladesh, officials said Thursday.
Twenty villagers were killed in India's Sunderbans region -- a vast expanse of mangrove forests -- after the storm hit the coast Wednesday while the bodies of 11 Bangladeshi fishermen were also recovered, officials said.
"Many more than 300 people are injured. The local health centres are crowded with injured," said Kanti Ganguly, development minister in Sunderbans in West Bengal state.
In the southeastern state of Andhra Pradesh, at least 31 people were killed by flooding from heavy monsoon rains which began on the weekend triggered by a low pressure area in the Bay of Bengal.
The storm smashed into the coast after sending fishing trawlers scattering for shelter when it whipped up high seas in the Bay of Bengal on Tuesday.
More heavy rain was forecast in the region.
Twelve Indian fishermen remained missing aboard a trawler in the Bay of Bengal but the coast guard had been able to make contact with other fishing vessels that earlier had been reported missing.
In Bangladesh at least 11 fishermen were confirmed dead and hundreds were unaccounted for but officials said they hoped many had found shelter on islands or in the many rivers that criss-cross the Sunderbans on the edge of the bay.