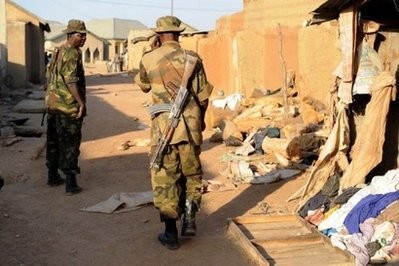 Soldiers patrol in the Zango area of Bauchi in northern Nigeria (AFP photo)
BAUCHI, Nigeria, Dec 30, 2009 (AFP) - At least 70 people died in violent clashes between security forces and Islamists in the northern Nigeria city of Bauchi, according to a hospital morgue body count Wednesday.
The clashes erupted Monday between members of a suspected Islamist sect and policy and military forces.
An AFP reporter who visited the morgue counted 42 bodies on the floor of the morgue, all with bullet or machete wounds. Another 25 bodies, mostly young people including many minors, had been placed in cold storage rooms at the morgue.
Three members of the security forces were also killed in the unrest.