Mexicans took new precautions Sunday amid fears that a new flu epidemic believed to have killed up to 81 people in the country could reach "pandemic" proportions and spread to the United States and worldwide.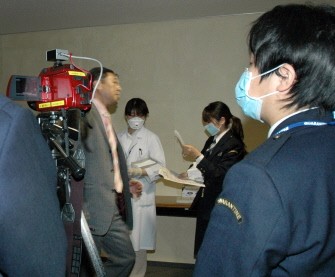 An airport quarantine officer (R) operates an infrared thermography sensor to check passengers' temperatures coming from Mexico at the Narita International Airport in Narita city in Chiba prefecture on April 25, 2009. (AFP Photo)
Mexican Health Minister Jose Angel Cordova raised the probable death toll from the new multi-strain swine flu in Mexico to 81, including 20 already confirmed.
Earlier, Mexican President Felipe Calderon published an order giving his government extraordinary powers to tackle the deadly outbreak, as at least two new cases were reported in the United States, bringing the total infected there to 10.
"This virus has clearly a pandemic potential," World Health Organization director general, Margaret Chan, said on Saturday.
The Geneva-based UN agency branded the outbreak "a public health emergency of international concern," following a meeting of its emergency committee.
In a statement it said it was recommending that all nations "intensify surveillance for unusual outbreaks of influenza-like illness and severe pneumonia".
In Mexico, 13 new suspect cases were reported in the past 24 hours and a total of 1,324 patients with flu symptoms were under investigation, Health Minister Cordova said.
Since April 13, "there have been 81 registered deaths which are probably linked to the virus of which only 20 cases have virological checks," Cordova told a news conference after meeting with health officials from across the country.
The Mexico government has upped emergency measures that were put into place only on Friday.
Officials have canceled hundreds of public events and closed schools for millions of students in and around the capital.
Schools in those areas and also San Luis Potosi in central Mexico, the third most affected area, will remain closed until May 6, Cordova said.
The traditional Sunday mass was suspended in Catholic churches throughout the country.
Many Mexico City residents wore freely-distributed surgical masks on the streets Saturday, after authorities urged people to avoid contact in public.
Apart from the capital, four other deaths were reported in central, northwest and southern Mexico.
Mexico City Mayor Marcelo Ebrard said that more than 500 sporting and cultural events had been canceled for at least 10 days.
Asian health officials went on alert and urged the public to be vigilant Sunday amid the threat of a flu strain that has killed up to 81 people in Mexico and sparked warnings of a potential pandemic.
Governments across the region, which has in recent years been at the forefront of the SARS and bird flu epidemics, urged the public, and especially travellers, to be on guard for symptoms of the new multi-strain of swine fever.
Ten New Zealand teenage students who recently traveled to Mexico have tested positive for influenza and are "likely" to have contracted swine flu, Health Minister Tony Ryall said Sunday.
They already tested positive for influenza A, of which swine flu is a sub-set.
"Ministry of Health officials advise me there is no guarantee these students have swine influenza, but they consider it likely," the minister said.
"I am also informed none of the affected patients are considered seriously ill, and most in fact seem to be on the road to recovery."

French health authorities have found two suspected cases of swine flu in travellers returning from Mexico and others are expected to follow, the top health official said in an interview Sunday.
"We do have suspicions, but these have not been confirmed, about two people who have returned from Mexico," general health director Didier Houssin told Le Parisien newspaper.
The World Health Organisation on Saturday declared a "public health emergency of international concern" following the outbreak and called on governments to step up surveillance of flu-like symptoms and severe pneumonia.