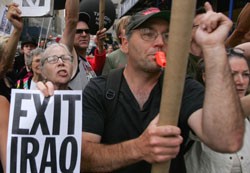 Protesters chant anti-war slogans and ask the US government to withdraw army from Iraq at Ground Zero, in New York City, September 10, 2006 (AFP Photo)
Americans still stricken with grief but increasingly skeptical of their president's handling of the war against terror heard George W. Bush appeal Monday for unity as the world remembered the victims of the September 11 attacks.
Only hours after Bush's speech, three assailants were killed Tuesday in a thwarted car-bomb attack on the US embassy in the Syrian capital Damascas, highlighting the continuing threat to US interests around the globe.
Bush wrapped up a day of solemn tributes Monday by asking Americans divided over the Iraq war to set aside their differences in the struggle against terrorist foes such as Al-Qaeda, author of the 2001 attacks.
"Winning this war will require the determined efforts of a unified country," he said in an address from the Oval Office of the White House.
"America did not ask for this war, and every American wishes it were over. So do I. But the war is not over, and it will not be over until either we or the extremists emerge victorious," he said.
The world was largely united five years ago in denouncing the strikes on New York and Washington, an outpouring of empathy famously encapsulated in the headline from France's Le Monde newspaper: "We are all Americans now."
But this year's ceremonies came against a backdrop of growing disenchantment over the war in Iraq and election-year politics at home.
In his rare prime-time speech to the nation on the fifth anniversary of the attacks, Bush also pledged to hunt down September 11 mastermind Osama bin Laden "no matter how long it takes".
Bush's speech capped a day of tearful tributes to the nearly 3,000 people who lost their lives when 19 members of bin Laden's Al-Qaeda network transformed commercial airliners into deadly missiles.
Earlier in the day, a hush fell over Ground Zero -- where the World Trade Center once stood -- as a minute of silence was observed at 8:46 am (1246 GMT), the moment when a plane slammed into the first of the Twin Towers.
Hundreds of families and friends of those who died attended a ceremony at the gaping hole in lower Manhattan to read the names of the 2,749 people who perished there.
Accompanied by the mournful sound of a solo cello, tearful families, some clutching photographs of their loved ones, read the names and lay floral tributes in the reflecting pools that stand in the construction site.
"To my fiance, my love and my best friend, my guardian angel, I miss you," said one woman. "My love for you is eternal," stuttered another woman, unable to hold back tears.
But even the ceremonies were shadowed by threat: a United Airlines plane was diverted because of a security scare and New York's Pennsylvania Station was briefly evacuated after a suspicious bag was found.
Al Qaeda also made its presence felt, with Osama bin Laden's number two Ayman al-Zawahiri issuing a video message vowing further attacks.
And on Tuesday in Damascus, security forces foiled a car bomb attack by defusing a bomb in a vehicle parked in front of the US embassy and gunning down the assailants as they fled the scene. Three were killed, and one was wounded and captured.
Amid bitter partisan feuding over whether the United States is safer now than five years ago, Bush called on Americans to unite to defeat terrorism.
"Our nation has endured trials, and we face a difficult road ahead.... We must put aside our differences, and work together to meet the test that history has given us," said Bush, whose approval ratings have plummeted since he stood in the ruins of the World Trade Center with a bullhorn five years ago to rally the American people.
Bush rejected calls for setting a timetable for a US withdrawal from Iraq and vowed to bring bin Laden to justice.
"Osama Bin Laden and other terrorists are still in hiding. Our message to them is clear: No matter how long it takes, America will find you, and we will bring you to justice," Bush said.
While aides insisted the speech was "non-political," Bush has been waging an aggressive public relations campaign to blunt anger over the war in Iraq two months before November legislative elections.
Vice President Dick Cheney and Defense Secretary Donald Rumsfeld, architects of US-led offensives in Afghanistan and Iraq, used a memorial ceremony at the Pentagon, where 184 people were killed, to appeal for perseverance.
"We have no intention of ignoring or appeasing history's latest gang of fanatics trying to murder their way to power," Cheney said.
Tributes to September 11 victims were also held in Pennsylvania, where United Airlines Flight 93 went down, killing 40 people, after a struggle between the hijackers and passengers.
Former US president Bill Clinton, meanwhile, admitted Monday that his administration fell short of preventing September 11, although he said many terrorist cells were rooted out an some attacks were prevented, including "a couple that would have done as much damage as 9/11."
"But in the end, it was not enough" to prevent September 11," he told a dedication of a September 11 memorial in Bayonne, New Jersey.
As US allies expressed solidarity with Washington in the fight against terror, newspapers around the world lashed out at the US decision to invade Iraq and the conduct of the US-led campaign against Islamic extremism.
In Beijing, Chinese state media, dwelled more on the American response to the atrocity.
"It's fair to say that September 11 changed the United States. But what really changed the world was the erroneous US response ... especially the war in Iraq," an editorial in the mass-circulation People's Daily argued.
The left-leaning French newspaper Liberation said Bush had squandered the goodwill generated by the attacks and had made the world a more dangerous place.
Many Arab newspapers said the "war on terror" and Iraq war had pushed the world closer to a clash of civilizations, with Jordan's independent Al-Ghad daily accusing Bush of turning the world into a "battle ground."
Source: AFP