MUMBAI, Nov 28 (AFP) - At least 93 people, most of them foreigners, were released Friday from Mumbai's Oberoi/Trident hotel more than 36 hours after armed militants seized the building, police said.
The guests, including one carrying a baby, left after a military and police rescue operation. They were ushered on to waiting minibuses before being driven away.
Some of the guests talked on mobile phones as they walked past reporters without commenting. Others were carrying laptop bags or suitcases but many came out only in the clothes they were wearing.
Another waved as he boarded the bus, looking relieved.
One of those brought out, Muneer Al Mahaj told reporters: "I am hungry and thirsty. Let me eat first. I have not seen a proper meal for the last 36 hours. I have been surviving only on biscuits and that too got over.
"Last night I ran out of water too."
Mahaj, from the southern Iraqi city of Basra, was in Mumbai on a business trip with a friend. He was in a room on the fourth floor of the hotel when the militants stormed the building late Wednesday.
"I cannot believe what I have seen in the last 36 hours. I have seen dead bodies, blood everywhere and only heard gunshots," he added.
"First I thought it will get over by next day morning but I could not believe that these terrorists took all of us hostage for more than 36 hours."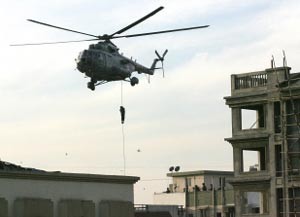 An Indian National Security Guard commando abseils from a helicopter onto the rooftop of Nariman House at Colaba Market in Mumbai on Nov. 28. Commandos have abseiled from a helicopter onto the roof of a Jewish centre in Mumbai taken by Islamic militants and entered the building as gunfire erupted, an AFP witness said. The centre was one of several targets in the city attacked by Islamist gunmen. (Photo: AFP)
Along with the nearby Taj Mahal hotel, the Oberoi/Trident was seized by gunmen in a wave of coordinated attacks across Mumbai which killed at least 130 people.
On Thursday, the vice-chairman of the Oberoi Group of hotels, S.S. Mukherji, said that about 200 people were trapped inside the hotel.
The Oberoi/Trident was one of two five-star hotels seized by gunmen late Wednesday, after a series of militant strikes across the city that left at least 130 people dead.