ZAMBOANGA, July 12, 2009 (AFP) - Gaunt and haggard, freed Italian aid worker Eugenio Vagni said Sunday his release after being held for six months by armed Islamic militants in the Philippines was a day he thought might never come.
Vagni, 62, was kidnapped in January along with two Red Cross colleagues by Abu Sayyaf rebels -- who have reported links to Al-Qaeda -- in the restive south of the country and held for 179 days in harsh, rugged jungle terrain.
Appearing before reporters here after his release early Sunday, a bearded and thin-looking Vagni was at times emotional as he thanked the Philippine military and local officials for working to free him unharmed.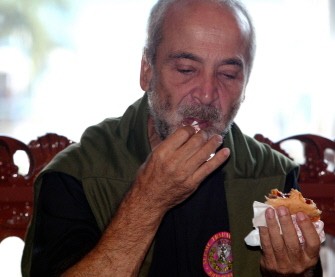 Eugenio Vagni eats a burger at a military airbase in Zamboanga on July 12, 2009 after his release. (AFP photo)
"I am happy because I am free. I thank all the people that led to this happening," Vagni said, struggling to remain composed as he talked of his excitement at seeing his wife and family.
"I thought it would never happen. I called my wife, and I told her, 'I love you'."
He also extended his condolences to the families of several soldiers who died in clashes with Abu Sayyaf rebels during pursuit operations over the past six months.
Vagni later flew to Manila, where he was tearfully reunited with his wife and young daughter. He was seen tightly hugging and kissing the two on the tarmac, an AFP photographer said.
An engineer by profession who worked in the private sector before joining the Red Cross, Vagni said he lost over 40 pounds (18 kilos) in captivity, surviving on mostly rice and fish, and at one point contracted cholera.
International Committee of the Red Cross (ICRC) spokeswoman Anastasia Isyuk said Vagni was doing "remarkably well" despite his ordeal and concerns for his health -- he has a hernia and there were earlier fears about his state of mind.
The spokeswoman declined to discuss the terms of his release, but stressed that the international aid agency did not pay a ransom for his release from Jolo island.
Local television station ABS-CBN quoted unnamed sources saying Vagni would be swapped for the two wives of Abu Sayyaf leader Albader Parad, who were arrested along with four other kidnapping suspects in Jolo on Tuesday.
Officials did not confirm the claim and the Italian embassy has not disclosed when Vagni might return to his home country.
ICRC's head of delegation to the Philippines, Jean-Daniel Tauxe, said the group was "relieved and happy" that Vagni had finally got out, stressing it would continue its humanitarian programmes in the country.
Vagni was seized by the Abu Sayyaf militant group with ICRC colleagues Andreas Notter of Switzerland and Filipino Mary Jean Lacaba during a humanitarian mission on Jolo, a hotbed of militant activity.
The gunmen freed his two fellow hostages separately under unexplained circumstances in April.
They finally turned Vagni over to Jolo vice-governor Nur-Ana Sahidulla and he was taken to a military hospital for precautionary medical checks before being flow to nearby Zamboanga city, en route to Manila.
Sahidulla, who had previously negotiated for Vagni's release, was alerted by the Abu Sayyaf to proceed to a village near Maimbung town after midnight, where officials found the Italian, a navy spokesman said.
Welcoming Vagni's release, Italian Foreign Minister Franco Frattini said his freeing was not the result of military action, which his government had rejected.
The Abu Sayyaf had previously threatened to behead one of its three captives if government forces did not withdraw. That demand was initially rejected, but Manila later relented after public appeals by the captives' families.
Abu Sayyaf, which has regularly kidnapped foreigners and Christians, has been accused of having links to Al-Qaeda as well as the militant Jemaah Islamiyah network.
That group was blamed for the 2002 bombing on the Indonesian island of Bali which claimed the lives of 202 people from 22 countries, including 88 Australians.