A series of poignant and emotional ceremonies were held across America Sunday to honor the 2,983 people killed in the September 11, 2001 attacks.
Here are some quotes from around the world, including from those taking part in 9/11 tributes, as America paid tribute to those who died 10 years ago.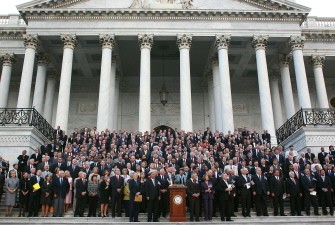 Members of the Congress sing 'God Bless America' during an event commemorating the tenth anniversary of the Sept 11.
"No memorial, no ceremony, no words will ever fill the void left in your hearts by their loss. My prayer for you is that 10 years later when you think of them, it brings a smile to your lips before it brings a tear to your eye."
-- US Vice President Joe Biden at a ceremony at the Pentagon.
"I wish my dad had been there to teach me how to drive, ask a girl out on a date, and see me graduate from high school and 100 other things I can't even begin to name."
-- Peter Negron, who was 11 when his dad, Peter, perished at the World Trade Center, addressing the ceremony at Ground Zero.
"Tom -- Bridget, Patrick, Laura myself, your soon-to-be granddaughter keep you in our hearts every day. Your family and friends miss you, love you, miss your laughter, your smile and your meatloaf."
-- the wife of port authority police officer Tom Gorman, addressing the Ground Zero ceremony.
"We cannot escape the painful reality of history, but we can choose to be inspired by that reality... This site will forever stand as a tribute to 40 individuals who chose, under the most horrific conditions, to stand and fight,"
-- Gordon Felt, president of the Families of Flight 93, at Shanksville, Pennsylvania, where a plane crashed after passengers fought the hijackers.
"God is our refuge and strength, a very present help in trouble, therefore we will not fear even though the earth be removed, though the mountains carried into the midst of the sea, though its waters roil and be troubled, though mountains shake with its swelling,"
-- US President Barack Obama at the Ground Zero ceremony, reading Psalm 46.
"Some back home have asked why we are still here. It's been a long fight and people are tired. The reason is simple: Al-Qaeda is not here in Afghanistan, and that is because we are."
-- US ambassador Ryan Crocker during a memorial at the embassy in Kabul.
"September 11 was actually a game designed to influence the emotions of the human community, in order to find a pretext for attacking Islamic regions and invading Iraq and Afghanistan."
-- Iranian President Mahmoud Ahmadinejad on his office website
"Pakistan joins the people of the United States and of the world in honoring the memory of all those who lost their lives on 11 September, as well as those who have been victims of terrorism around the world."
-- the Pakistan foreign ministry in a statement.