A top official in Kyrgyzstan's interim government has told The Associated Press that the U.S. air base used to support operations in Afghanistan is "not justified" — days after the leader announced it could remain.
Azymbek Beknazarov is a deputy head of the interim government that came to power last week after a bloody uprising that deposed the president, Kurmanbek Bakiyev.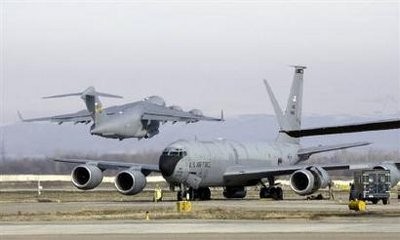 C-17 Globemaster takes off past a KC-135 Stratotanker at Manas Air Base near Kyrgyzstan's capital Bishkek, February 13, 2009.
Beknazarov told the AP on Saturday that the United States compromised its position on promoting democracy in Kyrgyzstan so as not to put the strategic Manas transit center under threat of closure.
Interim leader Roza Otunbayeva has said that her government will extend the current agreement allowing the U.S. to use the base for another year after it expires in July.