An Afghan and US military investigation has confirmed that "a number of civilians" were killed in a heavy fighting last week, a joint statement said Saturday, after claims that dozens had died.
The long-awaited statement gave no firmer figures on civilian casualties although President Hamid Karzai said up to 130 were killed, which would make it the deadliest such incident for since the foreign forces arrived in 2001.
"The joint investigation team confirms that a number of civilians were killed in the course of the fighting..." the statement said.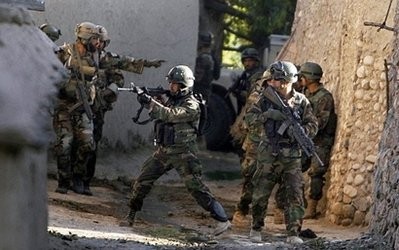 Afghan National Army commandos, assisted by members of the Combined Joint Special Operations Task Force prepare to enter the residence of a suspected bomb maker in Shinwar District of Nangarhar Province, April 2009.
However it was unable to "determine with certainty" which of the casualties were Taliban fighters and which were non-combatants because those killed were all buried, it said.
"The investigation team visited three grave sites containing seven individual graves and two mass graves with an indeterminate number of people buried in each mass grave," it said.
Teams from the US military and Afghan National Security Forces were still looking into the "complex series of Taliban attacks on innocent civilians, ANSF, and coalition forces in Farah province", it said.
The investigation had found that "a large number of Taliban fighters, to include non-Afghans" had gone to two villages in Bala Buluk district, Ganj Abad and Grani, and demanded money from locals.
They attacked police checkpoints, inflicting some casualties on officers.
The provincial government had called for help and Afghan security forces and coalition forces responded with an operation to clear the Taliban fighters out of the villages.
As heavy fighting continued for several hours, coalition troops called for close air support.
"Reports also indicate that Taliban fighters deliberately forced villagers into houses from which they then attacked ANSF and coalition forces," the statement said.
"The joint investigation team strongly condemns the brutality of the Taliban extremists deliberately targeting Afghan civilians and using them as human shields."