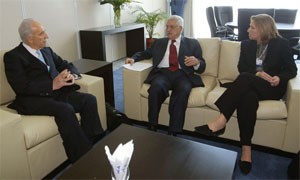 Israeli Vice-Premier Shimon Peres (L) holds talk with Palestinian leader Mahmud Abbas (C) in the resort town of Sharm el-Sheikh in Egypt May 21, 2006.
Palestinian leader Mahmud Abbas held talks with top Israeli officials on Sunday in the highest-level meeting between the two sides since the shock election win of the Islamist militant movement Hamas.
Israeli Foreign Minister Tzipi Livni said she told Abbas at the talks that Israel, which has boycotted Hamas since it took office at the head of the Palestinian government in March, wanted to help the Palestinian people.
"It is the Israeli government policy not to punish the Palestinian people for their vote and to help the Palestinian people in any economic and humanitarian way that we could," she told reporters after the talks.
The meeting, on the sidelines of the World Economic Forum in Egypt's Red Sea resort of Sharm el-Sheikh, was also attended by Abbas's chief negotiator Saeb Erakat and Israeli Deputy Prime Minister Shimon Peres.
Erakat described the atmosphere in the talks as positive and said the two sides had agreed to meet again in order to lay the groundwork for a possible summit between Abbas and Israeli Prime Minister Ehud Olmert.
"A range of issues were discussed -- political, humanitarian and economic," Erakat told AFP.
"We focused on reviving the partnership for peace. This is one of a series of meetings and we want to make sure there is a good preparation" for the summit.
Erakat said the Abbas team had reiterated requests for the Israeli government to release customs duties it traditionally collects on behalf of the Palestinian Authority but which have been frozen since February.
Israel had responded by saying that cash would be forthcoming to provide medical equipment.
Source: AFP