Palestinian president Mahmud Abbas is planning to visit several Latin American countries including UN Security Council member Colombia to discuss his bid for UN member state status, officials said Friday.
"We are coordinating the date, which would be the week of October 10," said Colombian Foreign Minister Maria Angela Holguin.
"It is important for president Abbas to relay his position in person to different presidents."
Abbas will hold talks with Colombian President Juan Manuel Santos in Bogota as part of a tour that will also take him to Honduras and the Dominican Republic.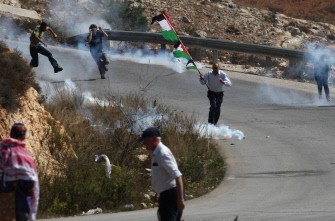 Protesters run amidst tear gas smoke as Israeli forces clash with Palestinian youths following a weekly demonstration against Israeli settlement expansion, in the West Bank village of Nabi Saleh, near the Jewish settlement of Halamish on September 30, 2011
The Palestinian leader also plans to visit Portugal, another Council member.
The Security Council has taken up the request for full recognition of a Palestinian state over the vehement opposition of Israel and the United States.
Unlike most Latin American countries, Colombia maintains that a Palestinian state should only be recognized through a negotiated solution with Israel. It has said it would abstain in any Security Council vote.
Holguin said Colombia hopes the sides heed a call by the United Nations, the European Union, the United States and Russia for peace talks with the goal of an agreement in 2012.
"Colombia's position has been the same for many years and we are very consistent: if there is no dialogue between the two parties, then it is very difficult to achieve peace," she said.
"Now is the time for both parties to sit down for a dialogue."
Palestinian foreign minister Riyad al-Malki said Thursday that eight members of the Security Council had pledged to approve the bid, one shy of the nine votes needed to advance it to the General Assembly.
Six UN Security Council members have publicly indicated that they backed the Palestinian bid: Brazil, China, India, Lebanon, Russia and South Africa.
Malki said the Palestinians have also been given assurances by Nigeria and Gabon that they would vote in favor of the state of Palestine joining the United Nations, although that has not been publicly confirmed.
Britain, France, Germany, Bosnia and Portugal have so far not revealed which way they will vote, while the United States has said it would veto the move -- which would effectively kill it in the Security Council.
Colombia is a traditional regional ally of the United States, which has supported Bogota in the fight against rebels and drug-trafficking with aid worth some $6 billion since 2001.
"We will not recognize (a Palestinian state) just because others recognize it," Holguin said, adding that a Security Council vote "accomplishes nothing."
"Don't forget that the United States has already said it would veto any request," the top Colombian diplomat added, noting that the number of votes for or against any Palestinian bid therefore would be of no importance.