Palestinian president Mahmud Abbas said on Thursday he will not seek re-election as he voiced frustration with the US position on Israeli settlements and delivered a major blow to Washington's Middle East peace efforts.
"I do not wish to run in the next elections," Abbas said in a televised speech in Ramallah after earlier informing the Palestine Liberation Organisation (PLO) and his own secular Fatah party of his decision.
"This is not a stunt. I hope that everyone will understand this decision and I will take further steps in this regard."
Palestinian officials had earlier said that Abbas's decision was motivated by his disappointment with US efforts to halt Israeli settlement construction, which he had said must happen before the resumption of peace talks.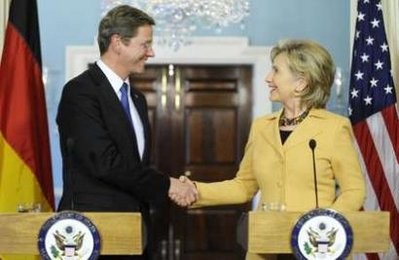 U.S. Secretary of State Hillary Clinton shakes hands with Germany's Foreign Minister Guido Westerwelle (L) during a news conference at the State Department in Washington, November 5, 2009.
Abbas did not connect the decision directly to the stalled peace process, but said he was "surprised" by Washington's apparent decision not to insist on a complete Israeli settlement freeze.
"We welcomed it, and were optimistic when (US) President (Barack) Obama announced the need for a complete halt to settlements including natural growth," he said. "We were surprised by his (later) support for the Israeli position."
Abbas last month called for presidential and parliamentary elections to be held on the constitutionally-mandated date of January 24, but the Islamist Hamas movement ruling Gaza rejected the call, throwing the vote into question.
It was also not clear who would run in Abbas's place, with senior leaders of the PLO and Fatah rejecting his decision earlier in the day and insisting his candidacy had their full support. Abbas: Palestinian moderate frustrated by Israel
Senior Fatah official Nabil Shaath said that Abbas, 74, made his decision out of "frustration" with the failure of US efforts to freeze Israeli settlements.
Abbas's frustration was said to have peaked when US Secretary of State Hillary Clinton praised an Israeli proposal for some settlement limits as "unprecedented" after months of Washington demanding a full freeze.
Clinton later clarified that the Obama administration still considers settlements "illegitimate" but also called on the two sides to resume negotiations even without the freeze demanded by the Palestinians.
On Thursday Clinton said she hoped to work with Abbas in "any new capacity" and that the United States has "tremendous respect" for him.
Shaath said Abbas felt he had done everything required of him under the internationally adopted 2003 roadmap agreement, which called on the Palestinians to improve security, but had received nothing in return.
In 2007, Abbas launched a massive security crackdown in the West Bank led by US-trained Palestinian forces that has transformed many former militant strongholds and been praised by the United States and Israel.
The roadmap also calls on Israel to remove all outpost settlements erected after 2001 and to halt settlement activity, but thus far Israel has rebuffed US and international demands for a complete settlement freeze.
Nearly half a million Jewish settlers live in the West Bank, including east Jerusalem, territory captured by Israel in the 1967 Six Day War and claimed by the Palestinians as part of their promised state.
Abbas was elected president in 2005 following the death of the iconic Palestinian leader Yasser Arafat.
The Islamist Hamas movement, which drove Abbas's forces from the Gaza Strip in June 2007, no longer recognises him as president because his four-year term officially ended in January this year.
Hamas declined to comment on the president's announcement regarding his candidacy, calling it an "internal Fatah matter," but blamed the decision on the United States and Israel.
"We in Hamas consider this step to be a message of rebuke to his American and Israeli friends after they ignored him and turned him into a mere tool," Hamas spokesman Sami Abu Zuhri told AFP.
Hamas has rejected the elections as "unconstitutional" because of Abbas's status and has vowed to prevent them being held in the Gaza Strip.
The two main factions have been struggling to reach a reconciliation agreement with Egyptian mediation, but the efforts stalled last month when Hamas refused to sign a document proposed by Cairo and signed by Fatah.