Opposition candidate Abdullah Abdullah announced on Sunday that he was pulling out of this week's run-off presidential election in Afghanistan.
"The decision which I am going to announce was not an easy one. It was a decision that I have taken after wide-ranging consultations, with the people of Afghanistan, my supporters and influential leaders," Abdullah told supporters.
"In protest against the misconduct of the government and the Independent Election Commission (IEC), I will not participate in the election," he added.
Abdullah's decision is set to plunge Afghanistan into further uncertainty with the country in political limbo since the first round of voting on August 20, which was tainted by widespread vote-rigging.
Following the widespread fraud in the first round, Abdullah had demanded President Hamid Karzai sack the head of the IEC Azizullah Ludin and suspend four ministers who campaigned for the incumbent.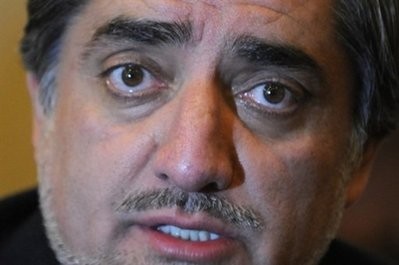 Opposition candidate Abdullah Abdullah, pictured, has announced that he was pulling out of this week's run-off presidential election in Afghanistan
Abdullah's camp had set a deadline of Saturday for Karzai to bow to his demands, saying that he would not take part in a contest that would not be free and fair.
His demands have so far received short shrift, with the IEC saying Ludin can only be dismissed by the supreme court while Karzai said Abdullah had no right to interfere in ministerial positions.
Karzai's share of the vote in the first round fell to 49.67 percent after a UN-backed watchdog deemed around a quarter of all votes cast to be fraudulent.
Insistent that the fraud had been overstated, Karzai only agreed to a run-off under extensive diplomatic pressure from Washington, highlighted when he made the run-off announcement standing alongside US Senator John Kerry.
Asked whether the outcome of a run-off with only one candidate would result in a legitimate government, US Secretary of State Hillary Clinton said Saturday that such situations were "not unprecedented."
"We see that happen in our own country where, for whatever combination of reasons, one of the candidates decides not to go forward. I don't think it has anything to do with the legitimacy of the election," she said.
"I'm not going to comment on what any of the candidates might decide to do," Clinton said, adding: "It's a personal choice which may or may not be made."
Abdullah won just over 30 percent in the first round and would have had a mountain to climb if he was to overhaul Karzai in the run-off.