KUALA LUMPUR, Jan 31, 2011 (AFP) - Seven accused Somali pirates, captured by Malaysian forces in a raid to free a hijacked oil tanker in the Gulf of Aden, arrived Monday in Malaysia where they could face trial.
The seven, dressed in orange detention suits and handcuffed behind their backs, arrived at Port Klang on the west coast and were taken under heavy security to a hospital and then a remand centre, an AFP reporter saw.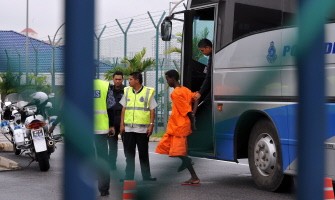 Malaysian police bring out accused Somali pirates from a bus at the Bukit Jalil police station on the outskirts of Kuala Lumpur on January 31, 2011. AFP
Transported in a convoy of a dozen vehicles, they spent an hour undergoing medical checks as some 50 police with automatic weapons stood guard outside the hospital's emergency department.
The alleged pirates all looked young, aged in their teens or twenties, and had no obvious injuries. They appeared calm as they walked past before a large media contingent, each guarded by two police officers.
A senior officer in the convoy said the Somalis would appear before a magistrate in the capital Kuala Lumpur on Monday as police apply to have them held on a two-week remand order.
"They will be remanded and during that period we will question them. After that we will decide whether they will be charged or not," the officer told AFP.
Malaysia and South Korea could become the first Asian nations to prosecute Somali pirates, after their armed forces captured a total of 12 suspects in separate raids earlier this month.
The efforts by Kuala Lumpur and Seoul to punish foreign pirates are part of growing legal efforts around the world to deal with the piracy crisis off lawless Somalia which has surged in recent years.
International warships patrol the area to try to deter the scourge, but a recent UN study said that nine out of 10 pirates caught at sea are freed because there is nowhere to try them.
Last November, Germany's first piracy trial in 400 years opened with 10 Somalis facing charges of hijacking a Hamburg-registered ship in the same area.
In June 2010, a court in the Dutch port city of Rotterdam jailed five Somali pirates over an attack on a cargo ship in the Gulf of Aden, the first conviction of its kind in Europe.
Malaysian police are gathering evidence on the attack on the tanker MT Bunga Laurel, which along with its crew of 23 was seized by pirates on January 20 in the Gulf of Aden.
"Investigation papers will be submitted to the Attorney General as soon as possible for his perusal as to whether to charge or otherwise," said Criminal Investigation Department deputy chief, Acryl Sani.
The tanker was headed to Singapore with a cargo of lubricating oil worth more than $10 million when high-seas bandits armed with AK-47 assault rifles boarded and took control of the ship.
Malaysian naval commandos from a vessel protecting shipping in the Gulf of Aden, along with a navy attack helicopter, responded to a distress call and captured the pirates after a brief firefight.
A day later, the South Korean navy captured five Somali pirates during a mission to rescue another vessel. They were brought to the southern port city of Busan and arrested on charges of robbery, hijacking and attempted murder.
On Monday the five were being questioned about who shot and critically injured the captain of the hijacked ship, who was fired at repeatedly by pirates as South Korean navy commandos stormed the vessel.
They could face life in prison if convicted of shooting him.
Malaysian Attorney-General Abdul Gani Patail has promised that the seven alleged pirates will be treated like any other criminal case, with an investigation followed by a trial.
"It is something new to us and our action will be observed by countries facing piracy problems," he said last week. The Bar Council has also said that the seven can be charged under existing Malaysian laws.