South Korea's Acting President and Prime Minister Hwang Kyo-ahn will have a phone conversation with U.S. President Donald Trump this week, Hwang's office said Sunday, source from the Yonhap.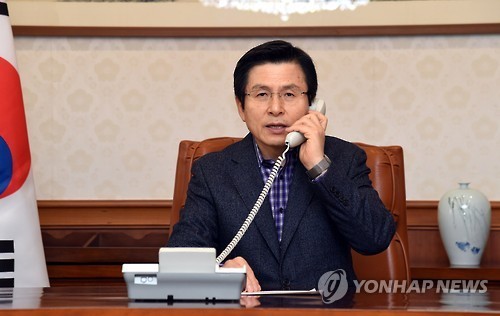 This photo, provided by the Prime Minister's Office on Jan. 27, 2017, shows Acting President and Prime Minister Hwang Kyo-ahn speaking on the phone with the staff of the Dongmyeong Unit, a South Korean military contingent operating in Lebanon.
The bilateral talks -- the first since Trump was sworn in as the 45th U.S. president on Jan. 20 -- will begin at 9 a.m., Monday (Korea time).
The announcement came after Reuters reported, citing a White House statement, that Trump "will speak to the leaders of Saudi Arabia, the United Arab Emirates and South Korea in separate calls on Sunday (Washington time)."
Trump already held phone talks with President Park Geun-hye on Nov. 10 after his victory in the presidential election, but he has not had any conversation with South Korea's acting president.
During Trump's conversation with Park, he said the United States will be "steadfast and strong" in defending against a provocative North Korea.
"We are with you all the way and will not waver," Trump said in the 10-minute conversation with Park.
Hwang has assumed all executive powers since Park was impeached by parliament on Dec. 9 for corruption allegations involving her close friend. Her impeachment trial is under way at the country's Constitutional Court.
A senior Seoul official said that Trump's planned talks with the acting president reflect Washington's understanding of the importance of the South Korea-U.S. alliance.
Observers say that the two sides are expected to discuss ways to deepen their long-standing alliance and address the evolving threats from North Korea's pursuit of nuclear weapons.
The talks have been arranged at a time when Pyongyang is expected to launch an intercontinental ballistic missile (ICBM). The North has warned it can launch an ICBM "at anytime from anyplace," and that it is close to perfecting its technology for an ICBM capable of reaching the U.S. mainland.
Hwang and Trump are also expected to discuss the planned deployment of a U.S. missile defense system, which China has strongly opposed. Hwang has defended the deployment plan as a "necessary self-defense" measure.
Alarmed by a series of campaign remarks by Trump that were skeptical of military alliances and trade deals with American allies and partners, Seoul has been trying to maintain close ties with Washington, its top security ally.
On the campaign trail, Trump made a host of speeches that questioned the economic value of U.S. security partnerships with allies like South Korea and Japan, and disparaged the South Korea-U.S. free trade agreement as a "job-killing" deal.