Militant anti-whaling activists said they were dodging a Japanese surveillance ship in icebergs near Antarctica on Wednesday, following their first skirmish with whalers during the annual hunt.
Paul Watson, who is leading a campaign to harass this season's hunt, said a ship loaded with Japanese security guards had been tailing his group since they left Western Australia on December 7.
When they attempted to approach the Shonan Maru No.2 from behind an iceberg on Monday, Watson said the Japanese targeted them with two water cannon and tailed them for two hours in a high-speed pursuit.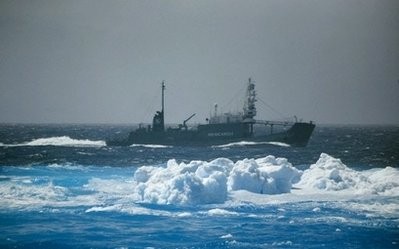 This handout photo released by the Sea Shepherd Society shows the Japanese ship Shonan Maru No. 2 in the seas off Antarctica on December 14.
"We had our water cannons at ready but we never opened up on them," Watson told AFP, speaking via satellite phone from Antarctic waters.
"As long as they're following us, they can relay our position to the whaling fleet so they can move if we're approaching them," he said.
Japan's government-backed Institute of Cetacean Research, which runs the whaling expeditions, said the water cannon was used because Watson's ship had come dangerously close.
"It was only a normal warning procedure after we repeatedly issued verbal warnings," said an official. "They know that we use water if they ignore our warnings and get close.
"Then they took pictures for the media, and the media got excited. We are only seeing the same pattern," he said.
Watson said the Shonan Maru No.2 was still tailing them Wednesday, but that "we're going to try and lose them in the ice pack down here off the coast."
"They said if we try to block the operations they'll put their ship between us and the harpoon vessels, which will most likely result in collisions," Watson said.
"But we're not going to back down, we're there to block their operations and we're not going to back down because they try to force us out of the way."
Despite the beefed-up security, Watson said he was confident of disrupting the hunt for a sixth year, saying the activists had a futuristic powerboat which would be able to outrun the ships and block their harpoons.
"It'll be our interceptor vessel, I think it will make a big difference," he said.
Japan's Prime Minister Yukio Hatoyama this week asked visiting Australian counterpart Kevin Rudd to rein in the activists, describing their actions as "sabotage."
The Sea Shepherd have chased Japanese whalers for years, sometimes hurling projectiles and climbing aboard Japanese ships, earning them the label of "eco-terrorists" in Japan and hardening the country's position on whaling.
Hatoyama dismissed threats from Rudd that he would haul Japan before an international tribunal, saying his country's whaling activity was legal.
Australia's Greens party said the Rudd government should threaten to abandon a proposed free trade deal with Japan to force Tokyo's hand.
"Probably nothing else will get the Japanese prime minister's attention more than linking our concern and our desire to end whaling in Antarctica immediately with negotiations over the free trade agreement," said Greens senator Rachel Siewert.
The FTA talks began in 2007, and the ninth round of negotiations was held in Canberra in July.
An international moratorium on commercial whaling was imposed in 1986 but Japan kills hundreds each year using a loophole that allows "lethal research" on the ocean giants.
Japan makes no secret that the meat ends up on dinner tables, and accuses Western nations of not respecting its culture.