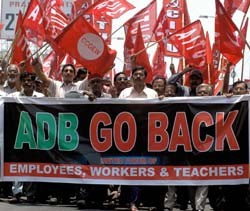 Members of left parties protest against ADB Governor's meeting in Hyderabad, 03 May 2006 (AFP Photo)
Men with "ADB Go Back" written on their foreheads and bare chests joined tribes people with peacock feathers tucked in their headbands and women and children wearing shirts emblazoned with logos such as "ADB Quit India".
Waving banners, posters and shouting anti-ADB slogans, the protestors from across Asia staged the rally which was led by a group carrying a black coffin symbolising the "death of ADB" and accompanied by drum beats.
Some 7,000 tribals, fishermen, union members and representatives of Asian non-governmental organisations took part, organisers and witnesses said.
"This is the largest protest ever staged against the ADB anywhere in the world," said Benny Kuruvilla, spokesman of the Peoples Forum Against ADB, an umbrella outfit of over 70 activist groups, which spearheaded the protest.
But police kept the rally 30 kilometers (18 miles) away from the gleaming convention centre in Hyderabad, known for its high-tech prowess, where the two-day meeting was being held.
Finance Ministers from Asia and the ASEAN nations, government officials and business leaders were attending the Hyderabad meeting to discuss how to enhance regional cooperation and bolster trade.
ADB President Haruhiko Kuroda said the major challenge was to bridge the widening gap between rich and poor and to ensure the poor benefit from economic growth.
Source: AFP
Related Articles:
Poverty Asia's Most 'Daunting' Problem: ADB Chief
ADB President: Asia's Growth Depends on Addressing Imbalances, Weaknesses