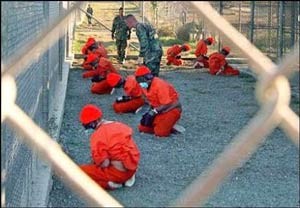 US prison in Guantanamo (Cuba) is strongly criticized
Information on secret detentions was "credible and uncontested", the UN Human Rights Committee said in its final report after an examination of the United States's human rights record.
"The state party should immediately abolish all secret detention facilities. It should also grant prompt access by the International Committee of the Red Cross to any person detained in connection with an armed conflict," the committee said in its final recommendations.
"The committee is concerned by credible and uncontested information that the state party has seen fit to engage in the practice of detaining people secretly and in secret places for months and years on end," it added.
Reports in recent months have alleged that the US Central Intelligence Agency conducts "extraordinary renditions" -- the covert transfer of terrorism suspects to third countries or US-run detention centres.
The 18 legal experts appointed by the UN oversee implementation of the world's core human rights treaty, the International Covenant on Civil and Political Rights.
Their concluding report listed a wide range of concerns relating to the conduct of US President George W. Bush's "war on terror", but also about the human rights situations in the United States.
They included the "potentially overbroad reach" of counter terrorism laws at home, interrogation techniques authorised by the US army and safeguards for detainees held at the Guantanamo Bay military base.
During its hearing before the panel on July 17, the US delegation reaffirmed that issues related to terrorism were largely "beyond the scope" of the treaty.
"Those (are) things that have to do with conduct outside of the territory of the United States, or those that belong to the question of the law of war rather than human rights law," Deputy Assistant Secretary of State Mark Lagon told journalists at the time.
However, the Committee slammed that assertion Friday.
"The United States should review its approach and interpret the Covenant in good faith," it said.
Concerns about the domestic human rights situation in the United States included racial discrimination in education, racial profiling in federal and state law enforcement, and reports of police brutality.
Source: AFP