An Afghan rights group said Monday a recent airstrike on a pair of hijacked fuel tankers killed as many as 70 civilians in northern Afghanistan, as the German troops whose commander ordered the bombing defended the action.
Afghan Rights Monitor, an independent human rights group, reported that its survey of the area following Friday's attack shows it killed as many as 70 villagers who were siphoning gas from the vehicles after they became stuck on a sand spit in the Kunduz River.
The group's report came as the German government backed down from its previous insistence that only the Taliban hijackers had died, conceding some civilians likely were killed
But Germany defended the decision to call in an airstrike, citing fears the tankers could have been used to mount a suicide attack on its troops.
Mohammad Omar, the governor of Kunduz, has also said he fully supported the airstrike, which he said killed up to 72 people — likely all militants.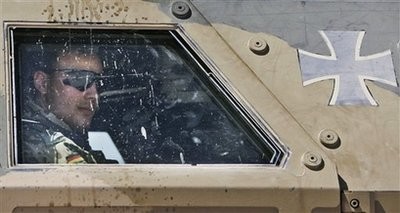 A German ISAF soldier looks out of an armored vehicle as he leaves for a mission in the region of Kunduz,
The Taliban, however, issued a statement calling on the U.N. to join an international investigation of the bombing and claiming that 150 villagers had died. "If they respect human rights and the blood of human beings, they should determine the truth or falsity of this situation," the statement said.
German soldiers in Kunduz on Monday rejected criticism that their commanders acted rashly in calling in the U.S. warplanes.
Three soldiers from Armored Infantry Battalion 391, who spoke on condition of anonymity under German military rules, said they went to the scene of the airstrike hours after it occurred and found Afghan police carrying broken weapons away from the smoldering tankers — proving, they said, the dead were linked to insurgents.
The soldiers, interviewed at their Kunduz base, were eager to defend their commander, Col. Georg Klein, who asked U.S. jets to attack the hijackers.
But that decision has come under intense criticism, inside and outside Afghanistan.
In another incident where NATO coalition troops were criticized for their use of force, a charity Monday accused American soldiers of storming through a provincial hospital, breaking down doors and tying up staff and visitors. The U.S. military said it was investigating the allegation.
Civilian deaths have undermined support for foreign forces among many Afghans. Growing public anger prompted the top American and NATO commander in the country, U.S. Gen. Stanley McChrystal, to draw up a new doctrine aimed at limiting such casualties.
McChrystal has pledged to investigate Friday's air strike.
The attack on the hijacked tankers provoked outrage in Germany, where newspapers ran graphic photos of badly burned victims, stoking opposition to the war.
Germany, which has some 4,200 soldiers in northern Afghanistan — the third largest contingent of foreign forces behind the United States and Britain — has been reluctant to commit more troops. At the same time, the U.S. and its NATO allies are considering a major expansion of their troop levels here.
For many Germans, the country's role in the Afghan conflict raises unwelcome memories of their country's past militarism.
The German public also fears losing more soldiers — 35 have been killed in Afghanistan since 2002. Battalion 391's third company has already lost two soldiers in combat since arriving in Kunduz three months ago.
Sitting in a shady courtyard in the Kunduz base, the three German soldiers said they hoped voters and politicians would rally behind their work, which is under intense scrutiny as the country gears up for Sept. 27 parliamentary elections.
They added that they are proud of their record in Afghanistan.
German troops operate under more restrictive rules of engagement than some other NATO forces, and until last week had a reputation for caution. They have even drawn criticism for their restraint.
U.S. military expert Anthony Cordesman has said the Germans' low profile has contributed to an increase of militant activity in the north, particularly around the Kunduz region where support for the Taliban is strong.
Omar, the Kunduz governor, told senior German officers Monday that the people of his province want them to take a tougher stand against militants.
But the German soldiers said they have engaged militants whenever necessary and would continue to do so. They also said their caution has resulted in fewer civilian casualties than U.S. troops operating farther south.
"There's not one cowboy among us," the officer said, as other soldiers nodded assent.