The US administration found itself in an awkward position after Afghanistan's offer of peace talks with Mullah Mohammad Omar, the fugitive Taliban leader long seen by Washington as an arch-enemy.
US officials spoke cautiously when asked about a possible negotiation with one of the most wanted men in the world, a day after Afghan President Hamid Karzai's offer of reconciliation.
Backing Karzai's proposal would mark an about-face for President George W. Bush's administration, with the Pentagon last month ruling out any reconciliation with a man who has "the blood of thousands of Americans on his hands."
But explicitly rejecting such a move would put the US government at odds with one of its staunch allies, Karzai, at a moment when Afghanistan faces mounting violence.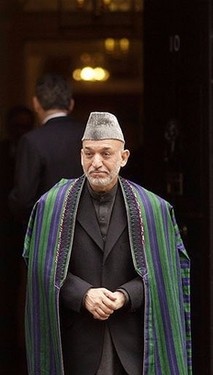 Afghan President Hamid Karzai.
"We support Hamid Karzai," said White House spokeswoman Dana Perino, when asked if the administration endorsed Karzai's offer.
"What we have seen from the Taliban , however, and from Mullah Omar -- who we haven't heard from in some time -- is an unwillingness to renounce violence."
Karzai said on Sunday he would go to "any length" to protect Omar if the Taliban leader agreed to peace talks, and was willing to risk a rift with his international partners.
The Afghan president has for years pushed for peace talks with the Taliban as a way out of a deadly insurgency in which foreign militants, including those from Al-Qaeda, are said to be playing a part.
However he has always insisted that his government would only consider talks with "Afghan Taliban" who do not have ties with Al-Qaeda and agree to lay down their weapons and accept the post-Taliban constitution.
Admiral Michael Mullen, chairman of the US Joint Chiefs of Staff, sidestepped the question of Omar but said that the time would come to hold talks with elements of the Taliban who were willing to reconcile.
But the time was not yet right, he said.
Mullen said the same approach was used successfully in Iraq and in counter-insurgency efforts elsewhere, saying that it was "very realistic" to pursue talks with insurgents in Afghanistan.
At the White House, Perino said US officials "are skeptical about what the Taliban's ultimate intentions are."
"But we recognize that, at some point, there might be some Taliban that are willing to reconcile and to renounce violence and to be productive members of the Afghanistan society."
State Department spokesman Sean McCormack said "it's hard to imagine" any circumstances under which US forces would offer safe passage to senior Taliban leaders.
The Afghan president told reporters he would offer protection to the Taliban leader even if it meant defying Afghanistan's international partners, who could remove him from his job or leave the country in disagreement.
"If I hear from him that he is willing to come to Afghanistan or to negotiate for peace ... I, as the president of Afghanistan, will go to any length to provide protection," Karzai said.
"If I say I want protection for Mullah Omar, the international community has two choices -- remove me or leave if they disagree," he said.
The Taliban, driven from government in a US-led invasion for sheltering Al-Qaeda after the September 2001 attacks, have said they would only agree to negotiations if international troops helping the government pull out.
But Karzai reiterated Sunday that his government would accept no preconditions from the group.
Saudi Arabia confirmed last month that it had been sponsoring talks between the Afghan government and representatives of the Taliban at the request of Karzai in a bid to restore stability but indicated further talks may be difficult.
Omar, who has a 10-million-dollar bounty on his head, headed the 1996-2001 Taliban regime that sheltered Al-Qaeda leader Osama Bin Laden and his followers.