Afghan electoral authorities said Saturday they would announce up to 99 percent of votes counted in the country's fraud-tainted presidential polls.
Afghans voted on August 20 in their second presidential election, marred by low turnout and allegations of widespread fraud.
"We will announce around 99 percent today," said Noor Mohammad Noor, spokesman for the Independent Election Commission (IEC).
"One percent is not processed, it has not been entered into the system," he said.
The IEC had hoped to announced preliminary results in early September, but its timetable has been pushed back by the need to investigate allegations of ballot-stuffing and for some votes to be recounted.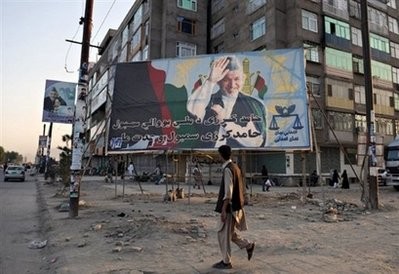 An Afghan walks in front of a billboard with a photo of President Hamid Karzai in Kabul.
The winner, who needs 50 percent of the total vote plus one vote, will not be officially declared until all irregularities are resolved.
The final results had been scheduled for September 17, but with the IEC warning that up to 500,000 ballots could be quarantined and investigated, the process could yet drag on for some weeks.
The UN-backed Electoral Complaints Commission (ECC) has already ordered thousands of votes thrown out from 83 polling stations in three provinces, but there is no timescale for investigations in the rest of the country.
With ballots from more than 91 percent of polling stations already counted, incumbent Hamid Karzai leads, with about 54 percent. His main challenger Abdullah Abdullah has less that 30 percent.