KABUL (AFP) – Afghan President Hamid Karzai's new cabinet nominees were presented to parliament Saturday, in his second attempt to form a functioning government and end a drawn-out political crisis, television showed.
Karzai last week ordered parliament to cancel its winter recess to consider new nominations for cabinet posts after it threw out most of his original choices.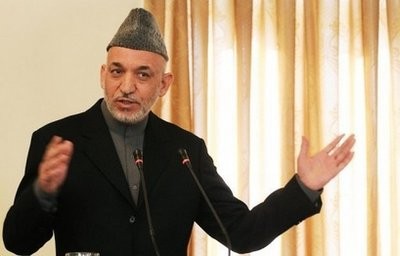 Afghan President Hamid Karzai (AFP file photo)
"I wish to express my thanks to parliament for postponing its vacation to do this important job for our country," said Second Vice President Mohammad Karim Khalili.
As he presented 16 nominees to the lower house of parliament, the Wolesi Jirga, each came forward and bowed to the parliamentarians.
Of the 24 names Karzai put forward last month for cabinet portfolios, only seven won approval in a secret ballot of 232 of the 249 lawmakers televised live on television last week.
Seventeen were rejected, and an 18th, the post of foreign minister, was left outstanding.
The new list includes three women -- nominated for the women's affairs, public health, and disabled and martyrs portfolios. The only woman on the original list, incumbent women's affairs minister Husn Banu Ghazanfar, was rejected.
Two posts not nominated Saturday -- the powerful water and power, and telecommunications positions -- would be presented in coming days, Khalili said.
Last week's rejections have effectively left Afghanistan without a fully functioning government, dragging out a political vacuum that has prevailed since an August presidential election.
Karzai was declared the winner and pledged to tackle the endemic corruption that infects his government and every aspect of Afghan life.
The president decreed last Monday that parliament should delay its 45-day recess until he proposed new ministers in place of those rejected.
Parliament had been due to break last Tuesday.
After being presented to parliament, nominees face questioning from MPs before a secret ballot for approval.
Presidential spokesman Feroz Mohammand told AFP the debate would take a week before a ballot could be held.
Officials have said that Karzai is eager to pull together a cabinet ahead of a conference set to take place in London on January 28 to discuss the future of the impoverished and war-weary country.
Currently Kabul's ministries are being run by junior bureaucrats who have little power and no coherent plan.
The president's determination that the cabinet be finalised ahead of the London conference appears to be a recognition that time is of the essence if he is to prove his stated commitment to eradicate corruption.
The international community that keeps his fragile administration in power -- with 113,000 troops deployed under US and NATO command to quash a Taliban-led insurgency -- has given him until mid-2010 to show progress.
The seven ministerial nominees who did win approval included those who had been approved by Karzai's supporters in the international community as competent and clean technocrats.
They represented the dominant ministries -- including interior, defence, agriculture and education.
The United States and NATO are sending in an extra 40,000 troops over the course of this year, even as public opinion in the West turns increasingly against continued engagement following more than 500 foreign troop deaths in 2009.