KABUL, Aug 23, 2009 (AFP) - Leading Afghan presidential candidate Abdullah Abdullah on Sunday claimed widespread rigging in last week's election in favour of the incumbent, President Hamid Karzai.

"There are widespread irregularities, fraud and efforts for rigging," Abdullah, Karzai's closest challenger, told reporters.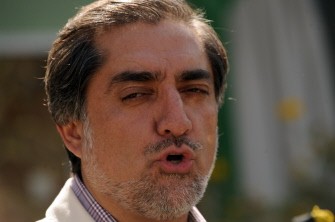 Afghan presidential candidate Abdullah Abdullah addresses a press conference at his house in Kabul on August 23, 2009 (AFP photo)
In some cases, he said his team was receiving "constant reports" that turnout at Thursday's election was shown in some areas to be four times higher than it was, with all the votes for Karzai.
The former foreign minister said the charges were from areas where turnout was agreed to have been low or non-existent.
Abdullah said his team was still investigating the allegations. "We don't have the complete picture yet," he said.
"Since this is a sign of widespread rigging, I thought the people of Afghanistan deserve to know what is going on and the international community deserves to know about our concerns."
He said the allegations had been directed to the Electoral Complaints Commission (ECC) for investigation.
Abdullah's office already announced it lodged 40 complaints, mostly alleging local officials ordered people to vote for Karzai.
Abdullah has claimed he is in the lead in the vote count, although final, official results are not expected before next month.