KANDAHAR, Afghanistan, May 23, 2011 (AFP) - Afghanistan's Taliban dismissed as "pure propaganda" claims Monday that their leader Mullah Omar was dead, after an Afghan intelligence source said he had been killed in Pakistan.
"This is pure propaganda. This is not possible at all," Taliban spokesman Zabihullah Mujahid told AFP by telephone from an undisclosed location. He added that Omar was currently in Afghanistan "leading the mujahideen".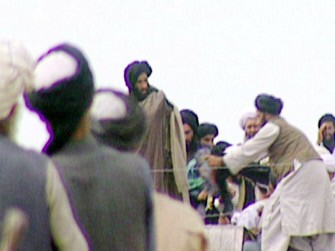 (AFP - FILES) This file photo taken in 1996 of a TV screen grab taken secretly by BBC Newsnight shows Taliban's spiritual leader Mullah Mohammed Omar (C) during a rally of his troops in Kandahar
The claims were also denied by Pakistani Taliban spokesman Ehsanullah Ehsan, who told AFP that Omar was "safe and sound in a safe place".
Ehsan added: "There is no truth in the news about his killing. This information has been spread to weaken the Taliban."
Their denials came after one Afghan intelligence source said Omar had been killed by Pakistan's Inter-Services Intelligence (ISI) agency, while another claimed he had been missing for 11 days.
The first source, speaking to AFP on condition of anonymity, said that Omar had been killed on Friday, citing information received from sources within the Haqqani insurgent group, whose leaders are based in Pakistan.
"Based on ISI instruction through (former ISI chief) General Hamid Gul, Mullah Mohammad Omar was told to move from Quetta city of Pakistan to northern Waziristan," the source said.
"As Mullah Omar was being transported from Quetta to North Waziristan by the ISI, he was secretly killed by the ISI."
However, a second Afghan intelligence source who also spoke anonymously said that Omar had been missing for 11 days following a meeting with Gul.
"It has been 11 days since his close circle, the people around him, have no clue of his whereabouts. The Taliban leadership are all concerned and worried for the sudden disappearance of Mullah Omar," the source said.
Gul described the claims by the sources as "totally false".
"I never met Mullah Omar, not even once in my life," he told AFP.
"This has been fed by the Indian lobby to defame Pakistan and me. I don't think he is in Pakistan. He never came into Pakistan, even during the Soviet Union war (in Afghanistan)."
Afghanistan and Pakistan regularly trade accusations over Taliban insurgencies plaguing both their countries. There is deep distrust between Afghan intelligence and the ISI, which helped create the Taliban in the 1990s.
Afghanistan's National Directorate of Security was due to hold a news conference at 2:00 pm (0930 GMT) Monday, although this was arranged before any suggestion that Omar had been killed.
Omar is the one-eyed Taliban leader who created the world's strictest Islamist state in Afghanistan in the 1990s, and sheltered Osama bin Laden and Al-Qaeda before the 2001 US-led invasion ousted the militants.
The Taliban were known for their strict enforcement of Sharia law, highly repressive attitude to women and bans on television and music.
In the insurgents' 10-year war against foreign forces, Omar has continued to inspire fighters in Afghanistan.
The United States offers a reward of up to $10 million for bringing him to justice.
Public pronouncements by Omar are extremely rare, unlike bin Laden, whose supporters regularly released video and audio footage of him before his death at the hands of US forces in Pakistan this month.
The first Afghan source suggested that the ISI had been trying to "ease the international pressure on Pakistan for not cooperating in the war on terror" and to show that Omar had not been living in a Pakistani city like bin Laden.