KABUL (AFP) – The UN special representative to Afghanistan has acknowledged for the first time that the country's presidential election had been tainted by "significant" and "widespread" fraud.
Kai Eide, who is Norwegian, called a news conference to counter allegations by his sacked deputy, Peter Galbraith, an American, that he had concealed evidence of vote fraud.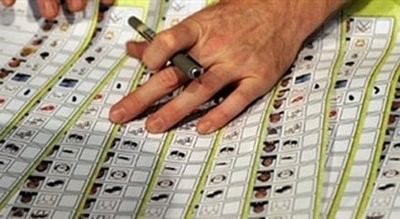 (AFP file photo) A worker from the Afghan Election Commission audits and recount ballots at the Independent Elections Commission in Kabul.
Eide said the United Nations supported vote fraud investigations which are due to be completed, and a final result announced, in days.
The elections, held on August 20, have been overshadowed by the fraud allegations, mostly aimed at President Hamid Karzai.
Eide's decision to speak to the media reflected the damage the row with Galbraith has done to the credibility of the United Nations as the election's organiser and funder.
Karzai leads preliminary results with about 55 percent of the vote, against his nearest rival Abdullah Abdullah, who is on 28 percent.
"It is true that in a number of polling stations in the south and the southeast there was significant fraud," Eide said.
"The extent of that fraud is now being determined," he said, referring to investigations by the Electoral Complaints Commission (ECC) and an audit of suspicious ballot boxes by the Independent Election Commission (IEC) last week.
"It has been claimed that there was 30 percent fraud. There is no way to know at this stage what the level of fraud is.
"No one knows. I can only say there was widespread fraud," he said. US Marines in Afghanistan
Eide called the news conference to answer accusations by Galbraith, who was dismissed last month after a row with his boss over the fraud issue, that he tried to conceal information about the extent of the fraud.
He was flanked by the ambassadors to Kabul from the United States, Britain and France, with the German ambassador, the European Union's special representative to Afghanistan, and a NATO representative also in attendance.
None of the ambassadors made any comment, and reporters were not permitted to ask them questions.
But it emerged that US President Barack Obama had spoken by telephone on Sunday with Karl Eikenberry, the US ambassador to Kabul, about the vote and the administration's review of US strategy in the region. Related article: Nobel prize-winning Obama reconvenes Afghan war
"The president received an update on the Afghan elections, and reiterated the importance of Ambassador Eikenberry and his team to ensuring the implementation of a comprehensive strategy in Afghanistan, that includes both military and civilian components, and working with our Afghan partners," the White House said in a statement.
The EU presidency, held by Sweden, issued a statement saying the EU "stands firmly behind" Eide.
Visibly angry, Eide said: "Some of these allegations were based on private conversation whilst he (Galbraith) was a guest in my house.
"My view is that private conversations around a dinner table in my house remain just that, private," he said.
Galbraith was sacked by UN chief Ban Ki-moon and immediately went on the offensive, saying the decision sent a "terrible signal" about the commitment of the United Nations to a fraud-free election.
Differences between the two men began before the poll when Galbraith wanted to eliminate "ghost" polling centres that posed a risk of fraud as they were too insecure to open on election day.
When fraud evidence became "very extensive," he said -- citing high vote numbers from regions where turnout was known to be low -- Eide would not allow the information to be disseminated even to ambassadors based in Kabul.
Galbraith also said that 30 percent of Karzai's votes were fraudulent, echoing findings by EU election monitors that about 1.5 million votes in total -- and 1.1 million for Karzai -- were suspicious. Related article: Deadly attacks in Afghanistan
The controversy surrounding Eide and Galbraith comes as Obama is considering boosting US troops in Afghanistan, where more than 100,000 troops under US and NATO control are battling a virulent Taliban insurgency.
US Senator Diane Feinstein said the president was reviewing the rising violence as he mulled his next move and had vowed to lawmakers, "We will not pull out," she told ABC television.
On the ground, Afghan and US forces killed 20 insurgents in eastern and southern Afghanistan while a 12-year-old girl died in a roadside bomb blast, officials said Sunday.
NATO said a US soldier was killed by a remote-controlled bomb on Saturday in western Afghanistan.