The top US and NATO commander in Afghanistan has warned President Barack Obama in a confidential report that the war against the Taliban could be lost within a year without more troops.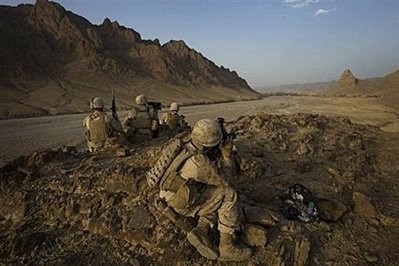 US Marines from 2/3 Fox company keep watch on a hilltop during a patrol in Helmand province, southern Afghanistan(AFP Photo)
In a blunt assessment of the eight-year conflict obtained by The Washington Post and published Monday, General Stanley McChrystal said a new strategy was needed, and warned that "inadequate resources will likely result in failure.
"Failure to gain the initiative and reverse insurgent momentum in the near-term (next 12 months) -- while Afghan security capacity matures -- risks an outcome where defeating the insurgency is no longer possible," he wrote.
The report was presented to Defense Secretary Robert Gates on August 30 and is being reviewed by the White House, with McChrystal widely expected to make a formal request to increase the 62,000-strong US force.
McChrystal, who assumed command of international troops in Afghanistan in June, said the campaign in Afghanistan "has been historically under-resourced and remains so today."
This fact risks "a longer conflict, greater casualties, higher overall costs, and ultimately, a critical loss of political support. Any of these risks, in turn, are likely to result in mission failure," he wrote.
The 66-page document -- a declassified version of which is published at www.washingtonpost.com -- describes a strengthening, intelligent Taliban insurgency.
McChrystal was highly critical of a corrupt Afghan government and an ineffective strategy pursued by international forces that so far has failed to win over ordinary Afghans.
"The weakness of state institutions, malign actions of power-brokers, widespread corruption and abuse of power by various officials, and (the International Security Assistance Force's) own errors, have given Afghans little reason to support their government," he wrote.
International forces "have operated in a manner that distances us -- physically and psychologically -- from the people we seek to protect.... The insurgents cannot defeat us militarily; but we can defeat ourselves."
Despite some strong criticisms, the report was welcomed by Afghan President Hamid Karzai.
"Where General McChrystal is asking for more resources in all aspects to boost the effort against terrorism, he has our support," Karzai said Monday in an interview with CNN.
"The overall report, as far as Afghanistan is concerned, is one that has the right approach, and we back it."
McChrystal said Afghanistan's own forces must be boosted over the next 12-18 months to maintain international support.
He called for the Afghan army to be increased from 134,000 troops to 240,000, and the police force to be raised to 160,000 officers from 84,000.
Despite his call for a radical rethink, McChrystal maintained a cautious optimism for the long-term outcome of the conflict, insisting: "While the situation is serious, success is still achievable."
The leak of the report, which was confirmed as genuine by the White House, the Pentagon and McChrystal's spokesman in Kabul, came a day after Obama defended his delay in making a long-awaited decision about more troops.
"We're going to test whatever resources we have against our strategy," Obama said Sunday. "We will do what's required to keep the American people safe."
Gates said last week that Obama needed time to assess US strategy and should not be rushed over such an important decision.
"We need to take our time and get this right," he told a press conference on Thursday.
Meanwhile, White House spokesman Robert Gibbs said there was no change in the president's position just because parts of the McChrystal report had come to light.
"We're going to conduct that strategic assessment and do that in a way that lays out the best path forward before we make resource decisions."