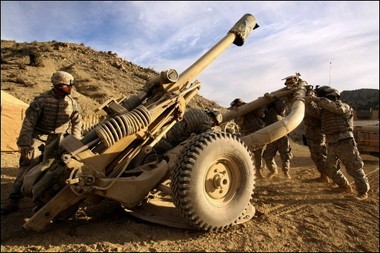 US soldiers prepare to fire their howitzer at Firebase Wilderness in Paktia province, Afghanistan (AFP Photo)
Leaders from the 26 member states of NATO were due to begin a summit meeting here at which they would be urged to "whole-heartedly" commit their resources to strife-torn Afghanistan.
Speaking to reporters on the eve of the summit, President Vaira Vike-Freiberga of Latvia, which is hosting the meeting, said a half-hearted presence in Afghanistan "doesn't seem to be worthwhile."
"We must either go there, get the job done or say we are unable to deal with it and leave that country to its fate," she said.
The key question the summit would have to deal with would be "how to achieve that and what is needed," said Vike-Freiberga, whose country is the first former Soviet republic to host a summit of the alliance set up during the Cold War to counter Moscow's military might.
Afghanistan will dominate the evening dinner between the heads of state and government which launches the summit, officially billed as a meeting to chart the alliance's transformation to meet the security demands of the 21st century.
The resurgence of the Taliban, five years after they were driven from power in Afghanistan in 2001, has peaked this year with daily attacks and confrontations claiming scores of lives.
NATO's military commander, US General James Jones, in early September called for some 2,500 extra military personnel for southern Afghanistan -- around 1,000 combat troops backed by about 1,500 logistical and other staff, plus equipment -- to tackle the revived insurgency.
But NATO Secretary General Jaap de Hoop Scheffer confirmed Monday that the call for more troops had not yet been fully met.
Leaders in Riga would also discuss the way NATO is adapting to security threats.
"This summit will prove that NATO is alive and well and adjusting to an ever-changing world," Vike-Freiberga said.
"The transformation of NATO and its readiness to assume new roles while keeping its ability to collaborate in an enlarged format of 26 members is a challenge in itself that NATO must rise to," she said.
The United States believes that the alliance's operation in Afghanistan, its most ambitious mission ever, is evidence that NATO must be able to work outside of its classic transatlantic "area of operations".
But countries like France, Belgium, Greece, Spain and Italy believe that turning NATO into a coalition of democracies with global ambitions could spark concern in Asia, particularly in China.