Afghan electoral authorities have cancelled the scheduled release on Saturday of the latest tranche of results from controversial elections that have been overshadowed by fraud allegations.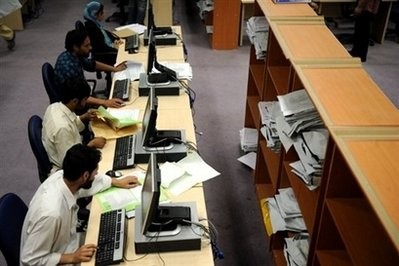 Afghan election workers count results in Kabul in August 2009. (AFP Photo)
The next batch of results from polling stations would be released on either Sunday or Monday, a spokeswoman for the Independent Electoral Commission said.
"It is because of a technical problem that we will not be able to make any announcement today," Marzia Siddiqi told AFP.
She said the IEC hoped to be able to release the preliminary result at its next announcement. Final results are not due before September 17.
The IEC has been releasing the results piecemeal since the elections for president and provincial councillors were held on August 20.
Throughout the laborious process of gradual announcements, the two main contenders for the presidency, incumbent Hamid Karzi and Abdullah Abdullah, have each claimed victory.
Abdullah, formerly foreign minister, has also alleged widespread vote-rigging by Karzai's camp and has threatened to reject any result he regards as compromised.
The latest results were released September 3, and showed Karzai maintaining a lead with 47.3 percent of the results from 60 percent of the polling stations used in Afghanistan's second only direct presidential election.
Out of 3.69 million valid votes, Karzai won 1.74 million and Abdullah 1.2 million or 32.6 percent, the IEC announced.
The winner needs to secure an outright majority of 50 percent plus one vote in order to avoid a run-off, which many observers have warned could be damaging if turnout proves even lower a second-time round.
NATO and Western allies have stressed in recent days their long-term commitment to keeping troops in Afghanistan to fight a resurgent Taliban, despite concerns about fraud and low turnout in the elections.
The country was still reeling Saturday from a NATO air strike in northern Kunduz province on Friday that officials said killed scores of people.
Officials said the dead were mostly insurgents, but Karzai said any targeting of civilians was unacceptable. His office said 90 people were killed and injured.
Memorial prayers were said Saturday in nearly a dozen villages for those killed in the strike.
Daily attacks and bombings highlight the challenges that the next president will face in combating an insurgency that has made 2009 the deadliest year for more than 100,000 foreign troops fighting against Taliban rebels.