Afghans voted Thursday to elect a president for just the second time in their war-torn history as a massive security clampdown swung into action to prevent threatened Taliban attacks derailing the ballot.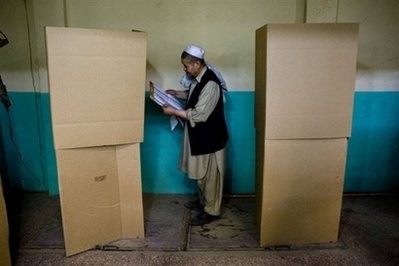 An Afghan man checks the list of candidates before casting his vote inside a polling centre in Kabul. (AFP Photo)
Scores of people queued up at polling stations in the capital Kabul and major cities under government control, but turnout was low in parts of the south where the Taliban have a strong presence owing to security fears.
The Islamist militia has struck repeatedly inside the capital in a bloody countdown to the elections aimed at putting the country more firmly on the path to democracy eight years after the US-led invasion ousted the Taliban.
Western-backed President Hamid Karzai hopes to win an outright majority to avoid a run-off, but his nervous government has ordered a blackout on reporting violence during polling day, threatening journalists with heavy penalties.
An energetic campaign by ex-foreign minister Abdullah Abdullah, who has a northern powerbase and draws on ethnic Tajik support, has boosted the chance of a run-off, which would take place in around six weeks time.
Isolated explosions were reported in Kabul, in Kandahar in the south, which was the capital of the 1996-2001 Taliban regime and elsewhere, but Afghan and UN officials said voting appeared to get off to a relatively peaceful start.
"I request my dear countrymen to come out and cast their vote to decide their future," said Karzai, casting his ballot in Kabul and dismissing worries about violence.
Western officials have played down expectations of perfectly free and fair elections over reports of vote-buying and Karzai's reliance on warlords, but say an estimated quarter of a million observers will guard against abuses.
Attacks have stoked fears about whether it is safe to vote despite government reassurances, and stepped up US and NATO anti-insurgency offensives.
In Kabul, authorities searched cars and people at checkpoints, while officials frisked people queuing up to vote at some polling stations.
"This is my second time to vote and I've come early before work because it's the only way we bring change to the country," Noor Amin, a 22-year-old private company employee, told AFP.
Voting centres opened at 7:00 am (0230 GMT), but the electoral commission said it would only announce later in the day how many sites had opened despite the deployment of 300,000 Afghan and foreign forces to protect voters.
"There are problems in Kandahar," recognised 40-year-old Mohammad Nisar.
"I'm voting for the sake of a good future, I have brought my female relatives too," he said, gesturing towards three veiled women sitting in a car.
Turnout was weak in Kandahar where several men were seen carrying the voting cards of women relatives, reluctant to let them brave the risk of violence but prevented by officials from voting on their behalf, an AFP reporter said.
Escalating strikes in recent days, the Taliban claimed responsibility for two suicide bombs targeting NATO in Kabul, pledging to sabotage the Western-backed elections in one of the world's most lawless nations.
"We had three explosions in Kabul. We had four explosions in the southern provinces. In all incidents in the south we had only one person slightly injured," said defence ministry spokesman General Mohammad Zahir Azimi.
Thursday marks only Afghanistan's second direct presidential election, in a crucial test of a system installed after the Taliban were ejected from power in late 2001, following the September 11 attacks.
Seventeen million Afghans have registered to elect a president and 420 councillors in 34 provinces across the largely rural and impoverished country.
It is a difficult process in a nation where more than 70 percent of people are illiterate, and bound into fierce tribal and religious allegiances.
One opinion poll carried out by a US organisation predicted Karzai would be forced into a run-off, winning 44 percent of the vote and Abdullah 26 percent.
A tense government threatened to expel foreign journalists who violate a ban -- ordered in the "national interest" -- on reporting attacks during the elections and vowed to close any local media outlet that does the same.
Claims of vote-buying and biased use of government resources have added to concerns about the credibility of the election, along with rampant corruption and Karzai's reliance on warlords who stand accused of rights abuses.
Despite billions of dollars of Western aid, most Afghans still lack electricity, roads are bad, jobs are scarce and graft rife.
Three US soldiers were killed in attacks on the eve of voting in the south, bringing to at least 50 the number of foreign troops to have died so far this month, according to independent icasualties.org.