Almost eight years on, a continued lack of focus and resolve in Afghanistan will be NATO's undoing, Canada's former top general warns in a new book.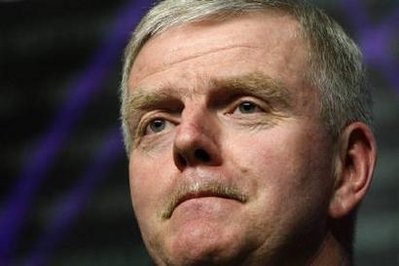 Canada's Chief of Defence Staff Rick Hillier. The splits inside NATO over the Afghan war have turned the alliance into a rotting corpse that will be virtually impossible to revive, says the former head of Canada's armed forces.
Retired general and former Canadian chief of defense staff Rick Hillier wrote in his autobiography to be published next week: "Afghanistan has revealed that NATO has reached the stage where it is a corpse, decomposing" and in need of "lifesaving" or "the alliance will be done."
He said the North Atlantic Treaty Organization is vulnerable to "any major setback" in Afghanistan and faces extinction unless it can "snatch victory out of feeble efforts" thus far.
In the book, "A Soldier First: Bullets, Bureaucrats and the Politics of War," Hillier says no Western country had predicted an Afghan resurgence following the early success of the US invasion in 2001.
When Hillier took command of the NATO-led International Security Assistance Force (ISAF) years later, "It was crystal clear from the start that there was no strategy for the mission in Afghanistan," he wrote.
"NATO had started down a road that destroyed much of its credibility and in the end eroded support for the mission in every nation in the alliance.
"Sadly years later, that situation remains unchanged."
Hillier lamented "pie-in-the-sky ideas for Afghanistan" that were not backed by firm strategies, clear articulation of goals, political guidance or combat forces. "It was abysmal," he said.
At the start of the conflict, European countries rebuffed Canada's joining ISAF. "We were shunned," said Hillier. "They did not want us as part of their alliance."
The British in particular believed Canada had "lost its ability to be a war-fighting nation." They had "no faith that Canada would pull its weight, especially if things got tough."
Eventually, Canada was offered a chance to join a US division in southern Afghanistan, deploying in early 2002 and earning the respect of US commanders as they helped rout Al-Qaeda militants.
When a second ISAF force was sent to rout an insurgency, "the Europeans had suddenly warmed to the idea of Canadian participation after realizing the challenges of generating the ISAF force."
Canada sent 2,000 troops to Kabul in August 2003, and assumed command of ISAF in February 2004. Some 2,800 troops are now deployed in volatile Kandahar province until 2011.
Hillier accused NATO of being "dominated by jealousies and small, vicious political battles," adding its "lack of cohesion, clarity and professionalism was ominous" at the start of the Afghan mission.
He lamented that many alliance members are focused on "building their own little fiefdom" instead of preparing troops for deployment.
In the book, Hillier described the Iraq war as a "distraction" for the Americans. "Perhaps more importantly, the war in Iraq gave the Taliban heart at a time when it was largely beaten."
Most Taliban who would later form the Afghan insurgency were hiding in Pakistan, their leadership almost entirely killed or captured, militants "soundly beaten" in battles with US forces and their source of funding from Muslim world supporters drying up.
But the Taliban saw from the few successes of "ragtag insurgents" in Iraq that "Western military forces could be hurt and maybe even have their will to fight destroyed."
"They watched, learned and soon began applying the tactical lessons from Iraq in successfully attacking Western forces," Hillier wrote. The Afghan insurgency got its second wind.
Hillier also lamented too few NATO troops in Afghanistan, what he described as a "minimalist approach to Afghanistan that severely constrained the mission there."
It was only with a top-up of American troops this year that the alliance has reached the minimum 70,000 to 80,000 soldiers NATO has said is required to defeat the Taliban, he said.