Afghans on Saturday mourned the dead from a NATO bombing that killed scores of people and renewed an outcry over civilian casualties at the hands of Western troops in an eight-year war.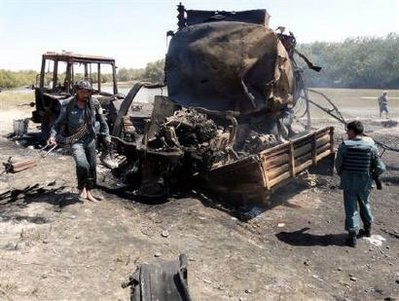 Afghan police inspect the site of an airstrike on fuel tankers in Kunduz September 4, 2009. (AFP Photo)
The air strike destroyed two fuel tankers hijacked by the Taliban at a time when witnesses said villagers had rushed towards the vehicles, carrying any container they could to collect free fuel at the insurgents' invitation.
Officials said the dead were mostly insurgents, but Afghan President Hamid Karzai -- leading the count in fraud-tainted elections -- said any targeting of civilians was unacceptable. His office said 90 people were killed and hurt.
Memorial prayers were heard Saturday in nearly a dozen villages for those killed in northern Kunduz province, where the atmosphere was highly charged, witnesses said.
A delegation from the defence and interior ministries travelled to Kunduz early Saturday to begin investigations ordered by President Hamid Karzai, an official said.
Zamari Bashari, interior ministry spokesman, said it was not yet known how many people were killed, nor how many were civilians.
Kunduz provincial police chief Abdul Razaq Yaqobi said 56 people were killed and 12 wounded, adding that "all of them were Taliban".
In the Kunduz hospital, where many of the injured were taken, Asmatullah was with his 10-year-old son Shafiullah, who he said had been with other children getting free fuel and whose legs were burned when the tankers were ignited.
Asmatullah, who like many Afghans uses one name, said he was awoken by the noise of the exploding tankers "and when I went there I saw all the world was covered by killed and wounded people".
"All the dead were Taliban," he said.
The Taliban released a statement saying none of its militiamen were among the casualties.
"When the planes came our men knew that they would bomb the area, so all our people left," said the statement, received by email.
The air strike has underscored the increasing Taliban presence in parts of the north straddling a new supply route for foreign troops coming through Tajikistan in order to minimise dependence on the volatile route from Pakistan.
The White House expressed "great concern" over the loss of civilian lives while European governments warned the raid risked undermining the NATO mission of 64,500 troops from more than 40 countries trying to defeat the Taliban.
Police and the interior ministry said up to 56 Taliban were killed and 10 more wounded, including a 12-year-old child, when a NATO air raid targeted the tankers after they were hijacked en route from Tajikistan to Kabul.
Mahbubullah Sayedi, a government spokesman in Kunduz gave the highest death toll, saying 90 people were killed, but said most were Taliban.
The insurgent militia, which frequently exaggerates its claims as part of its propaganda effort in an eight-year war against Western troops and the Afghan government, earlier said 150 villagers, most of them young boys, were killed.
The incident came four days after the US and NATO commander in Afghanistan submitted a review into the war, calling for a revised strategy to defeat the Taliban and reverse the country's "serious" situation.
The White House also said the incident would be investigated and NATO chief Anders Fogh Rasmussen pledged to conduct a thorough investigation.
The International Security Assistance Force (ISAF) said it bombed two stolen fuel trucks spotted on the banks of the Kunduz river, saying a large number of insurgents were killed but expressing regret for "any unnecessary loss of human life".
Kunduz provincial governor Engineer Mohammed Omar, said a German military convoy was targeted by a suicide bomber on Saturday about five kilometres (three miles) outside Kunduz city.
He said a car packed with explosives was remotely detonated as two German armoured vehicles were passing, injuring three German soldiers.
ISAF had no further details of the attack but confirmed there were no deaths.