A team of African leaders was heading for the Libyan rebel stronghold of Benghazi on Monday to try to sell a peace plan already accepted by Moamer Kadhafi's regime.
But the rebels were demanding that any ceasefire would require the withdrawal of government troops from the streets and freedom of expression.
"The people must be allowed to go into the streets to express their opinion and the soldiers must return to their barracks," Shamsiddin Abdulmolah, a spokesman for the rebels' Transitional National Council, told AFP.
"If people are free to come out and demonstrate in Tripoli, then that's it. I imagine all of Libya will be liberated within moments."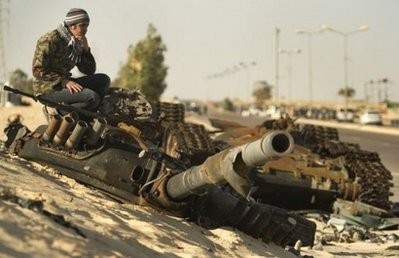 A rebel fighter takes position on the turret of a destroyed tank outside Ajdabiya.
South African President Jacob Zuma said from Tripoli late Sunday that Kadhafi had accepted an African Union peace plan designed to end the current conflict, before the delegation moved on to meet rebel leaders.
"We also in this communique are making a call on NATO to cease the bombings to allow and to give a ceasefire a chance," Zuma stressed.
Kadhafi's delegation had accepted the AU's proposals, details of which would be set out in a statement later, Zuma added.
But the South African leader will take no further part in the talks as he was leaving Libya to return home due to prior commitments.
The other members of the AU team -- the leaders of Mali, Amadou Toumani Toure, Mauritania, Mohamed Ould Abdel Aziz, and Congo's Denis Sassou Nguesso, as well as Ugandan Foreign Minister Henry Oryem Okello, representing President Yoweri Museveni -- were travelling west to rebel-held Benghazi, 1,000 kilometres (600 miles) east of Tripoli.
The African mediators were welcomed to Tripoli by Kadhafi supporters holding the veteran Libyan leader's picture and waving the green flag of his regime.
Britain's former premier Tony Blair told CNN earlier Sunday that Kadhafi should not be underestimated.
"Whatever people say about being delusional and so forth, he's kept that grip there for 40 years," Blair said on the channel's "State of the Union" programme.
In Brussels, NATO said it had hit at least 26 regime tanks near the third city of Misrata, under siege by pro-Kadhafi forces, and the battleground crossroads town of Ajdabiya further east.
fter destroying 14 tanks around Misrata early in the day, warplanes struck more tanks and anti-aircraft guns in the late afternoon, a NATO official said on condition of anonymity.
Near Ajdabiya, alliance aircraft blasted 11 tanks in the morning and struck one more tank and three military vehicles in the evening.
The alliance had already taken out 15 tanks near Misrata on Friday and Saturday.
"The pressure continues as NATO strikes go on day and night," the official said.
Earlier, the NATO operation's commander Lieutenant General Charles Bouchard said: "The situation in Ajdabiya, and Misrata in particular, is desperate for those Libyans who are being brutally shelled by the regime.
"To help protect these civilians we continue to strike these forces hard..." he said in a statement.
"We are hitting the regime logistics facilities as well as their heavy weapons because we know Kadhafi is finding it hard to sustain his attacks on civilians."
In Geneva, the international Red Cross expressed concern about several thousand foreign migrants stranded in Misrata.
The group was found living under tarpaulins and shelters by an International Committee of the Red Cross team that entered the city by sea for a day to evaluate medical conditions and aid needs, an ICRC spokeswoman said.
Attacks by government forces on Misrata have endangered civilians and targeted a medical clinic in violation of international law, Human Rights Watch said Monday.
The group called on the government to allow regular access of humanitarian aid to the city by sea and land, and to permit safe passage for all civilians who wish to leave.
"The Libyan government?s near siege of Misrata has not prevented reports of serious abuses getting out," said Sarah Leah Whitson, Middle East and North Africa director at Human Rights Watch.
"We?ve heard disturbing accounts of shelling and shooting at a clinic and in populated areas, killing civilians where no battle was raging."
According to Dr. Muhammad el-Fortia, who works at Misrata Hospital, they have recorded 257 people killed and 949 wounded since February 19. The wounded include 22 women and eight children, he said.
A second doctor confirmed the figure in the region of 250 dead over the past month, most of them civilians, and said: "The fighters know how to protect themselves, but the civilians are getting hurt."